SpaceX's satellite unit Starlink has signed new deals with Australia's Royal Flying Doctor Service (RFDS) and maritime communications provider Tototheo Maritime.
The RFDS will use Starlink's Low Earth Orbit (LEO) satellite communications services to provide connectivity to healthcare providers in rural Queensland, while Tototheo will resell services to ship operators within the merchant shipping, offshore, yachting, and fishing industries.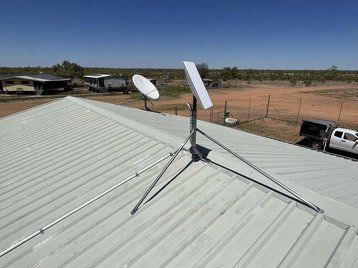 Starlink to serve Flying Doctors in Queensland
Founded in 1928, the RFDS, a non-profit air medical service in Australia, provides healthcare services for people living in remote and rural areas of the country who might not be able to gain regular healthcare due to long distances.
Last month a Starlink panel was installed on the roof of the Urandangi Health Clinic in Queensland, which is serviced by RFDS' Mount Isa-based crew. It is the first of three planned deployments aiming to boost connectivity and efficiency for the service's remote workforce.
Urandangi is an outback town in the locality of Piturie in the Shire of Boulia, Queensland. It is around 2,000 kilometers (1,247 mi) northwest of the state capital, Brisbane, and 187 kilometers (116 mi) southwest of the regional center of Mount Isa.
RFDS' Queensland section digital infrastructure program manager Adam Carey said the satellite service is an extension to RFDS' existing wide area network and would allow the organization to extend coverage for crews delivering healthcare services in the furthest corners of Queensland.
"Many of the locations where RFDS provides GP, nursing, mental health, and dental services have no or limited internet or telecommunications coverage, so teams often need to work offline," he said. "After extensive research and testing, Starlink, which has only recently extended its coverage across parts of outback Queensland, has been identified as the best solution due to its extremely high performance compared to traditional technology."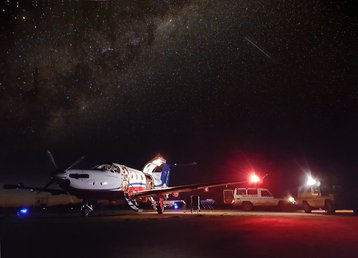 The RFDS employs more than 400 people in Queensland and operates 20 aircraft. It has nine operational bases located in Brisbane, Bundaberg, Cairns, Charleville, Longreach, Mount Isa, Rockhampton, Roma, and Townsville.
RFDS Mount Isa medical lead Doctor Deidre Stark said the new connection would help improve efficiencies for the GP, nurse, and mental health clinician who visit the community.
"From having live access to our patient record system, to improving access to remote printing for scripts, a fast and reliable connection will ultimately free up time for clinicians and help us to provide even better care for our patients," Dr Stark said.
Approvals for additional installations at Yowah and Greenvale clinics are currently being processed, and in the future, the RFDS hopes to roll out the system at locations state-wide in the coming months. The organization is also looking into the use of Starlink for remote-locality patient transfer facilities and the RFDS Dental Service, which travels to rural and remote towns to provide dental care.
According to iTnews, Starlink had already been used by RFDS in the southern states.
Tototheo Maritime the latest maritime Starlink partner
Marine communications provider Tototheo Maritime this month announced it has added Starlink's new low latency high-speed connectivity to its portfolio of services.
An agreement between the two companies was finalized in December 2022 and the systems integrator will commence deployment of Starlink kits this month.
Tototheo said it can now offer LEO satellite communications alongside Inmarsat GX (Ka-Band & L-Band), TM Flex (Ku-Band), Iridium (L-Band), LTE (3G/4G), and terrestrial connectivity solutions.
"This marks a new era for maritime connectivity," said Tototheo co-CEO, Despina Panayiotou Theodosiou. "With a fast-expanding coverage area, the speeds Starlink offers will enable a leap forward in the integration of more effective and sustainable technologies in maritime. We look to the addition of Starlink to our range of services as a further step towards enhancing the reliability and flexibility of choice when it comes to onboard connectivity."
Starlink has signed distribution deals with maritime communications firms Marlink – which also has a deal in place with OneWeb – Elcome International and Anuvu, as well as cruise liner providers Royal Caribbean, Carnival Corporation, and Hurtigruten.