Employees of Sri Lanka Telecom (SLT) have been staging island-wise protests against privatization at the company.
The protests were carried out on November 25 and 28, reports World Socialist Web Site (WSWS).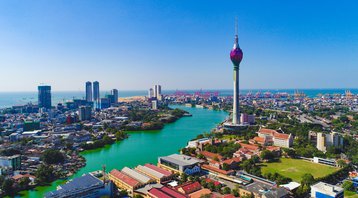 According to the article, demonstrations were held outside SLT offices in several cities during lunchtime, including Colombo, Galle, and Matara in the south, Anuradapura in the north-central region, and Trincomalee and Kalmunai in the east.
Protestors were reportedly displaying banners against potential privatization at the company, which notes the Government of Sri Lanka as its primary shareholder, with a 49.5 percent stake.
Banners on display included "Stop the privatization of profit-earning Telecom!", "Sri Lanka has been bankrupted by privatization!", and "Stop selling national resources!".
A considerable stake in SLT is owned by Global Telecommunications Holdings N.V, which owns 44.98 percent of the company.
However, the company is set to become privatized following recent plans outlined by the Sri Lankan government during its 2023 Budget. It's reportedly one of several state-owned Sri Lankan companies set to become privatized.
Sri Lanka has struggled in recent times with its economy in turmoil, which has led to the soaring cost of living prices and lower wages, notes WSWS, which said the protests were to let off steam and show workers' anger against the plans of privatization.
The protests were organized by the Telecom Trade Unions Collective (TTUC), which is a group of 20 unions, including the All Telecommunication Workers Union (ATWU), Podujana Pragathiseeli Telecom Workers Union (PPTWU), Sri Lanka Nidahas Sevaka Sangamaya (SLNSS), Samagi Sevaka Sangamaya (SSS) and Jathika Sevaka Sangamaya (JSS). Further protests are expected later this week.
SLT currently serves over nine million customers across fixed and mobile services. Global Data says that SLT currently employs just over 8,000 people.