Antennas have been found dotted in the foothills around Salt Lake City, Utah.
Officials, which have begun slowly removing the systems, do not know who is behind the antennas - nor what they are meant to be used for.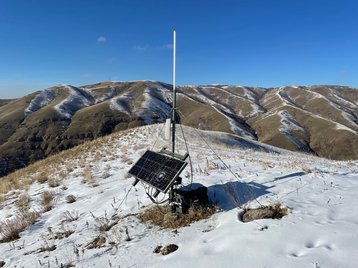 "These towers have been bolted into different peaks and summits and ridges around the foothills," Tyler Fonarow, the city's recreational trails manager, told KSLTV 5. "It started with one or two, and now it might be as much as a dozen."
The rigs consist of a LoRa fiberglass antenna, a locked battery pack, and a solar panel.
Placing structures on public lands without permission is illegal, so Fonarow and his team have been removing them when they have time. But many are bolted onto steep peaks, requiring teams of five people and special tools to remove them.
"It's not a high priority for us," Fonarow admitted to Motherboard. "We'll get to it when we get to it."
He told the publication that one antenna was found on top of Mount Wire, which is more than 7,000 feet (2,134m) high.
The University of Utah said that it did not believe that any of its campus members were connected to the deployments.
One of the leading theories is that the antennas are part of a cryptocurrency mining scheme.
Rather than relying on computational power, the Helium network mines crypto via a decentralized wireless network.
Proof-of-coverage (PoC) gives a high value to elevation and distance covered, so setting up on a mountain would make sense. They also get paid more if they have neighboring systems they can communicate with, which would explain the number of systems deployed.
However, the price of the Helium currency has fallen by more than 20 times since its late 2021 highs. At the same time, an increase in the number of miners has reduced the payout per system.
It is unlikely that the Utah deployments, should they be for Helium, were able to make a profit.
With the deployments not having caused any damage, formal charges are equally unlikely. "As long as it's not dangerous, we really don't care," Fonarow told Motherboard. "We just want people to stop doing it so we can get back to taking care of our lands… if someone wanted to put an antenna in the exact same location for scientific purposes, we'd probably allow it."