Data center developer and operator Stream is planning a hyperscale campus in Goodyear, Arizona.
The company has acquired 157 acres of land, envisioning a 418,000 square foot facility with up to 50MW of power capacity – and that's just the first phase of the project.
New data halls are expected to welcome first customers in the first quarter of 2020.
Really good year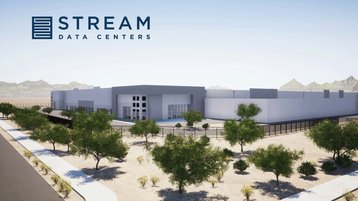 Dallas-based Stream has been building data centers since 1999. To date, it has developed more than 2.5 million square feet of white space across the US, with total power capacity in excess of 250MW.
The upcoming campus in Goodyear represents the company's first foray into the Phoenix market; it is important to note that the nearby Dallas / Fort Worth metro recently emerged as the second largest data center market in the US, according to Site Selection Group.
The wording of the press release suggests that the property is not empty – it is not clear what currently occupies the site in Goodyear, but whatever it is, Stream said it would "redevelop the existing facility" into a data center.
The company could eventually expand the campus to offer up to two million square feet of technical and office space – almost as much as the total amount of real estate it has built over the past two decades.
To prepare for potential expansion, the campus will feature an onsite substation which will be constructed by Arizona Public Service Electric Company (APS), with ultimate power capacity of 350MW.
"The Phoenix market has quickly emerged as one of the top destinations in the Western US for enterprise and cloud companies," said Robert Kennedy, co-managing partner of Stream Data Centers.
"A pro-business environment with a great sales tax incentive program, low risk of natural disaster and low latency to major markets on the West Coast, Midwest and Texas have fueled tremendous growth for this market. We look forward to establishing a major campus and long-term relationship with Goodyear, APS and the Greater Phoenix region."
Goodyear has been attracting a lot of attention from hyperscalers in 2019: first it was Vantage, announcing plans for a 160MW campus on the corner of Bullard Avenue and Van Buren Street; a week later, Compass Datacenters revealed it bought 200 acres down the road, for its new, yet unnamed colocation brand.
"We are very excited to welcome another best-in-class company to our rapidly expanding cluster of high tech businesses. We are thankful for their commitment to Goodyear and foresee a bright future ahead," said Mayor of the city, Georgia Lord.