Air conditioning supplier Stulz has launched a flexible split air conditioning system for smaller data centers and server rooms.
The EC Tower places an indoor cooling unit in the equipment racks, and an outdoor unit with the compress on the exterior wall. It can cool 5kW to 24kW of load. It is only available in the UK for the time being.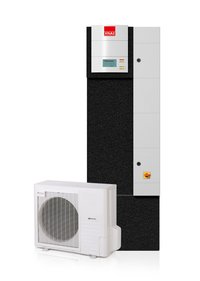 Chill factor
Stulz says the unit is smaller than conventional units, and responds to dynamically changing heat conditions in the racks.
"Comfort" air conditioners can use up to 40 percent of their cooling capacity in dehumidification, but this unit is designed to cool equipment and generates between 90 percent and 100 percent of "sensible cooling capacity," i.e. cooling without the use of evaporation, reducing the need for dehumidification.
The indoor and outdoor units can be up to 100m apart, which makes the system more flexible, and the outdoor unit is about a third the size of a conventional precision air-conditioning condenser, says Stulz.
The unit can be delivered in around two weeks, including features such as fault indicators and fire shut down. It's designed to be installed quickly, and operated continuously.