Supermicro has unveiled a ruggedized server that can be hung on a telephone pole, for intelligent processing at the Edge.
The new SuperServer option packs a proprietary SuperMicro board in an enclosure that meets the IP65 standard for protection from dust and water incursion. The system has an Intel Xeon server supported by GPUs or FPGA add-ons, and is intended for smart applications such as AI inferencing, carried out at the Edge. It also has a heater and fans to maintain its temperature in outdoor temperatures from -40C to +50C.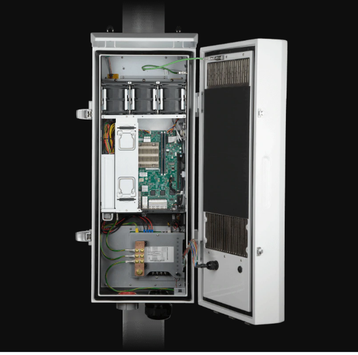 Pole positioning
The product has been in the works for a while at Supermicro. Last month, Supermicro's senior director of technical marketing Doug Herz dropped a hint in an interview with DCD, saying: "We're able to make small servers, small motherboards. Imagine a small data center that is sitting on a pole, and, it's in the middle of Texas. The temperature goes up to 100 degrees in the summer, and down to minus 20 or minus 30 in the winter. There's no industry standard server that can possibly handle that. So what you need to do is create new designs, and that's what we are doing."
The new "box on a pole" is intended for applications such as securely distributing cached media content, or storing video surveillance and other sensitive data, close to end users on 5G masts. Its catchy full name is "SuperServer E403-9D-16C-IPD2", and it weighs in at 46kg, measuring 12.56in x 32.31in x 10.16in. The unit is based around an 8in x 10in proprietary-format Supermicro board (the X11SDW-16C-TP13F) which carries a Xeon D processor and has three PCI-e slots for FPGAs and GPUs.
Edge opportunity
The Edge is emerging as a potentially-large niche for IT infrastructure, where servers can be positioned close to end users and devices, in applications such as the Internet of Things, and serving media to mobile devices. Hardware vendors are jockeying for position in providing customized servers and casings for the anticipated demand as Edge applications take off.
In October 2019, Schneider Electric announced a 6U wall-mounted micro data center for indoor edge applications. This week, Schneider has announced terms for channel partners, including a 17 percent discount, explaining to CRN that Edge resources will be mostly installed and serviced by third parties through the channel.
Meanwhile, Dell EMC has announced a miniature "rack-in-a-box" outdoor data center with a companion server for Edge applications. It doesn't sit on a pole, but the PowerEdge XE2420 can include up to four accelerators with 92TB of storage.
Background note: The IP65 brand is one of the "Ingress Protection" IP codes set by the international standards body IEC for ruggedized enclosures. The two digits specify protection against dust and water respectively, so "IP65" specifies a casing that is dust-proof and can keep out water jets, but is not certified for total immersion.