Swiss data center operator Green has launched a new data center campus in the Dielsdorf area in Zurich.
Originally announced in January 2021, the Zurich Metro campus will eventually span three buildings (M, N, and O) on a 46,000 sqm (495,150 sq ft) site. The first data center – M – was occupied by major customers in December 2022 and officially went into operation last week.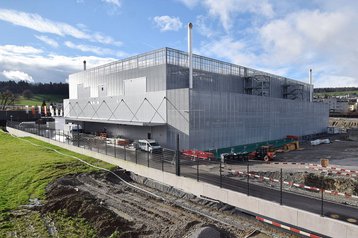 Construction began in the first quarter of 2021, with the first data center originally scheduled for completion in the first quarter of 2022.
The 5,600 sqm (60,275 sq ft) of usable data center space provides room for around 80,000 servers and includes a photovoltaic installation on the roof of the building. A planned district heating system will heat more than 3,500 households and commercial buildings in the area using waste heat from data center M.
"Data center M is a flagship project in terms of energy efficiency and sustainability," said COO Andrea Campomilla.
Construction on data centers N and O are set to begin 'as early as' 2023, according to Green.
"We are constantly investing in innovation and are growing in a customer-oriented and sustainable way," added Roger Süess, CEO of Green.
Green operates three other locations around the Zurich area. Zurich West will also build out to three facilities across 10,000 sqm (107,650 sq ft); Zurich City is an underground facility the company acquired in 2016 offering 3,200 sqm (34,450 sq ft), and Zurich North is a two-story facility spanning 1,000 sqm (10,750 sq ft).
Green is owned by InfraVia Capital Partners, which acquired the company from Altice in 2017 for around $217 million.
Last year Green completed a $514 million refinancing. The company said at the time it would use the money to 'accelerate its development strategy' and to fund the next phase of growth.