Taiwanese national security officials want to force electronics contract manufacturer Foxconn to sell its stake in a Chinese chip company.
Last month, Foxconn invested $800 million into Tsinghua Unigroup, making it the second largest shareholder of the chip designer and fab company.
But, with relations between China and Taiwan deteriorating, the investment has raised concerns.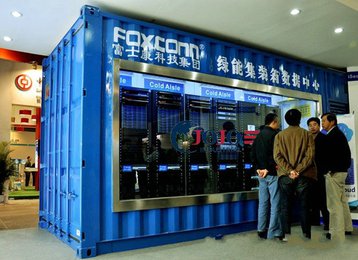 The government of Taiwan last month threatened to fine Foxconn $835,600 for making the investment without seeking regulatory approval.
While a comparatively small amount, if the company was found to have violated laws against investing in Chinese firms perceived to be a national security risk, such a fine could be levied repeatedly until the sale is undone.
In the weeks that followed, Foxconn defended its investment, saying that Tsinghua was "misunderstood."
The company explained: "We think the business portfolios, such as chip design, servers, networking equipment and switches of the new Tsinghua Unigroup, are a great fit to Foxconn's technology road map in the future, so we made this investment."
It added that it had now filed the necessary papers to Taiwan's Investment Commission.
But relations between the two countries have only soured more since the acquisition. A visit to Taiwan by US Speaker Nancy Pelosi sparked threats of retaliation from China, as well as military drills that encircled Taiwan, sending rockets and planes into territories owned by the island as well as Japan.
China also levied new trade sanctions on Taiwan, but they appear to mainly be a political stunt - with only about 0.04 percent of their two-way trade impacted.
China was careful not to block the exports of semiconductors, with the nation heavily reliant on the advanced processors developed by Taiwan's TSMC.
In an effort to reduce this dependence, China has invested heavily in its own chip manufacturing industry - with mixed results.
Tsinghua Unigroup is a case in point. After aggressive growth, and state support, it overstretched - just as US sanctions limited its access to key equipment. In late 2020, it defaulted on $198 million in debt, causing its credit to be downgraded.
This led to cascading defaults, spiraling to $3.6 billion. It had around $30bn in overall debt, against just $8bn in assets.
But, after axing expensive memory fab developments, it was restructured in January - emerging from debt in need of new investors.
That's where Foxconn comes in.
But the FT reports that the investment from the world's largest contract electronics manufacturer is unlikely to last.
"This will definitely not go through," a senior Taiwanese government official involved in national security issues told the publications.
Officials from the president's National Security Council and the Mainland Affairs Council are pushing for the deal to be blocked.
"It is clear that now they have elevated this to the national security level, prospects are getting dim," a person close to Foxconn said. "With the soaring tension in the Taiwan Strait, this is looking even more difficult."