Following the announcement that President Donald Trump will pull the United States out of the Paris climate agreement, major tech companies have spoken out against the move and highlighted their own progress towards cutting carbon emissions.
Apple, Google, HPE, Amazon, Facebook, Schneider Electric, Tesla, Microsoft and IBM were among those saying that the US should honor the agreement, which aims to cut greenhouse gas emissions around the globe, instead of joining Nicaragua and Syria as the only nations in the world not involved in the effort.
The technology industry and those in the data center field have mostly embraced renewable energy. As we covered in our February/March issue of DCD Magazine, data centers have turned to renewables to power their facilities, while looking for ways to improve efficiency and accountability.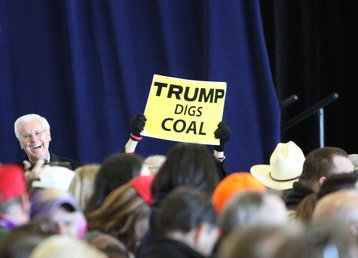 A troubled climate
Ahead of Trump's announcement, Bloomberg reports that Apple CEO Tim Cook placed a call to the White House to convince the president to stay in the agreement. 
In addition, Apple - as well as 24 other technology companies - ran a full page advert in The New York Times and Washington Post arguing the merits of keeping the current deal. With these attempts failing, the response has been less than positive.
"Decision to withdraw from the [Paris Agreement] was wrong for our planet," Cook tweeted. "Apple is committed to fight climate change and we will never waver."
Tesla and SpaceX CEO Elon Musk, meanwhile, said that he will step down from three presidential councils on business, manufacturing jobs and infrastructure. He tweeted: "Am departing presidential councils. Climate change is real. Leaving Paris is not good for America or the world."
Google CEO Sundar Pichai joined Musk and Cook in tweeting his views. He said: "Disappointed with today's decision. Google will keep working hard for a cleaner, more prosperous future for all."
Facebook's CEO Mark Zuckerberg took to his own social network to share his thoughts on the move, highlighting the green credentials of his company's data centers: "Withdrawing from the Paris climate agreement is bad for the environment, bad for the economy, and it puts our children's future at risk.
"For our part, we've committed that every new data center we build will be powered by 100 percent renewable energy.
"Stopping climate change is something we can only do as a global community, and we have to act together before it's too late."
IBM said in a statement: "Climate change is an international problem that requires an international solution, and we believe it is important for the world to reduce greenhouse gas emissions. Therefore IBM supported - and still supports - US participation in the Paris Agreement… IBM believes that it is easier to lead outcomes by being at the table, as a participant in the agreement, rather than from outside it." CEO Ginni Rometty, however, will remain on Trump's business advisory council.
"We are disappointed with today's decision by the White House to withdraw the United States from the landmark, globally supported Paris Agreement on climate change," Microsoft president and chief legal officer Brad Smith said in a statement. "We believe that continued US participation benefits US businesses and the economy in important and multiple ways."
Amazon also released a statement on the news. It said: "Amazon continues to support the Paris climate agreement and action on climate change. We believe that robust clean energy and climate policies can support American competitiveness, innovation, and job growth."
Tanuja Randery, regional president for UK & Ireland at Schneider Electric, said: "The global problem validated by nearly every country in the world in Paris was clear. Our world faces an energy dilemma – we must halve our energy emissions by 2050, despite the fact that demand for energy is expected to double in that time.
"We are in the midst of a very real transition in which our electricity models will be anchored in more decentralized generation and decarbonized fuel sources and the current way of generating, distributing, consuming and managing energy is not sustainable. The decision by the US administration to withdraw from the Paris Climate Agreement is a step backward from the vision and commitment that world leaders made in 2015."