Telefônica Brasil, also known as Vivo, has spent R$125 million (US$$38m) upgrading its Tamboré 1 data center in São Paulo, Brazil.
The facility, originally opened in 2012 for R$400m (US$123m), doubled its data center footprint from 2,300 square meters (24,756 sq ft) to 4,600 square meters (49,514 sq ft), allowing for an additional 909 racks. There is also potential for further expansion, with space for a 26,000 square meter (279,862 sq ft) upgrade.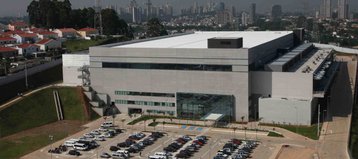 With help from Huawei
"Today we are agnostic about technology," Telefónica's B2B vice president, Alex Salgado, said (translated). "In B2B our competitors have their own solutions in their data centers. The corporate market wants to talk more and more with few suppliers. We are that link." 
He told journalists visiting the data center (via BNamericas): "The amount of customers still using their own data centers is still large, but this is changing and many companies are opting for external storage and management of their data and applications."
Among its offerings, Telefônica provides two different cloud solutions in partnership with Huawei. The first is based on OpenStack technology and is known as Open Cloud, the other is based on Huawei's cloud operating system FusionSphere and is marketed as Cloud Server. Both are available from Telefônica's data centers in Brazil, Chile and Mexico.
The telecoms company operates four data centers in Brazil (Tamboré 1, 2 and 3, and Prado Velho), with a combined footprint of 88,766 square meters (955,469 sq ft) and an annual processing capacity of 1.6 petabytes, plus 10 petabytes of backup.
Elsewhere in South America, Telefônica operates two data centers in Argentina, two in Chile, another two in Peru and one in Mexico and in Ecuador. It also has a Latin America-focused facility in Miami, USA.