A consortium led by Telstra will help develop a proof-of-concept spatial digital twin of New South Wales, Australia.
The contract, which could lead to a bigger project, is expected to assist the government in reacting to disasters, including wildfires.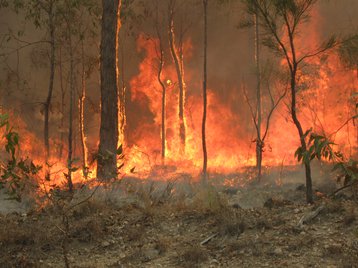 Following the 2019/2020 bushfires, an independent inquiry found that the government and emergency services were lacking critical information about telecommunications and utility infrastructure.
Across all of Australia, the fires impacted 1,390 telecoms sites, 77 percent of the facilities - which include mobile and fixed-wireless base-stations, nodes, exchanges, equipment shelters, copper and optical fiber cables - experienced outages, meaning that communities were sometimes unable to seek help when they needed it most.
Of the 1,390 facilities, 51 percent suffered outages that lasted more than four hours, 26 percent experienced less than four hours of outages, and 23 percent were 'impacted' but did not go down.
Local emergency services did not know which sites to prioritize - with NSW saying that they only found out one tower was critical to most of the south east as fires neared the site.
Last year, NSW began collecting that data to build out a 3D spatial dataset of Government Radio Network (GRN) telecommunications towers and assets, along with other telco assets.
The NSW Spatial Services division debuted an early digital twin proof-of-concept covering a few local government areas in February 2020. Now, telco Telstra – in collaboration with engineering consultancy WSP, geospatial services companies AAM and Veris, digital twin maker Bentley Systems, and geospatial platform developer Koordinates – will develop additional technical capabilities.
With an AU$1.86 million (US$1.35m) contract, the group will deliver the "technical components... required to prove critical technical capabilities to [a] beta implementation," the contract, first reported by ITNews, states.
The Spatial Digital Twin is being used for other Australian disasters, with the NSW government in August saying that it would add mouse plague data.