US real estate group Thor Equities has established a new company to own and operate its data center developments.
This week saw the launch of Form8tion data centers, which is now marketing Thor's maiden project in Madrid, Spain.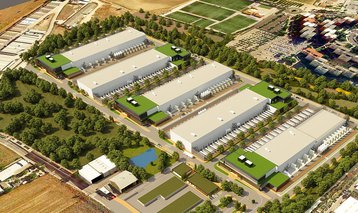 Founded in 1986, Thor has traditionally focused on retail, residential, and industrial buildings. Its portfolio spans locations in the US, Europe, and Latin America. Thor's new digital infrastructure unit, Thor Digital, was first announced in April 2022 with plans to develop a new hyperscale data center campus in Madrid.
London-based Form8tion is led by Simon Burrage, also CEO of Thor Equities Group's Thor Digital Unit. He was previously CEO of Ark Data Centers and its Crown Hosting subsidiary, leaving the company in early 2022. Roy Gibbons, chief revenue officer and co-founder of Form8ation, is also part of Thor and Ark DC alumni.
According to a new website from Form8tion, the group's 'Madrid One' campus will offer up to 100MW of capacity across 60,000 sqm (645,850 sq ft) – Thor previously said phase one of the 200,000 sqm (2.1 million sq ft) campus will offer up to 20MW of capacity, growing to more than 100MW and seeing some €600 million ($640m) invested in the project.
Form8tion renderings suggest the campus will host five buildings across some 70 acres. The company's website says the facilities can be dedicated for single occupancy from an initial 6MW up to 30MW and delivered in 12-24 months.
The company said it will source power purchase agreements to power its sites, use HVO for its backup generator fuel 'where viable,' and feature living walls at its sites.
The Madrid One campus is based at a former Coca-Cola bottling plant in the Nino del Remedio Industrial Estate acquired by the company in October 2022.