A company proposing building three data centers in Perth, Darwin, and Dampier as part of a US$1.5 billion connectivity project for northwestern Australia.
The facilities would be built to the Tier IV standards, with an initial capacity of 20MW each. The goal is to provide a hub of connectivity away from Sydney and Singapore that can serve companies with operations in APAC, Australia, and beyond, as well as provide low-latency services to the oil and gas fields off northwestern Australia.
For more breaking data center news, features, and opinions, be sure to subscribe to DCD's newsletter
Fibre Expressway to bring connectivity to NWA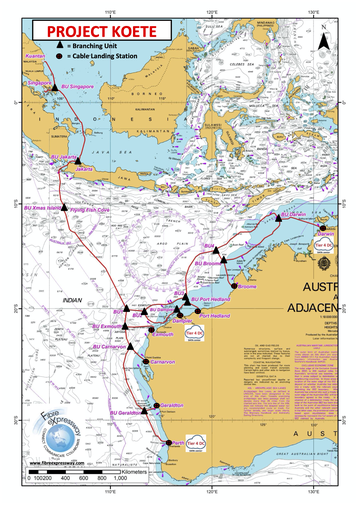 The data centers are part of Project Koete, a $1.5 billion project for Western Australia and Northern Territory from Australian company Fibre Expressway.
The project includes a 10,000-kilometer, 16-fiber pair carrier-neutral subsea cable to connect the three facilities before running up to Jakarta in Indonesia, Singapore, and Kuantan in Malaysia. The project would include seven cable landing stations between Perth and Darwin. The project is slated for completion in 2025
"This will be the most significant technological investment Western Australia and the Northern Territory have ever seen," said Gary Kennedy, Fibre Expressway's onboarding CEO. "It will provide capacity for multinational cloud giants and global financial services companies to diversify beyond traditional data center hubs such as Sydney, Melbourne and Singapore. It will also provide valuable infrastructure on which telcos can build new services."
"This facility will combine the benefits of greater interconnectivity between north and western Australia and the world, encouraging greater investment in the region, and improving data security and sovereignty," he added.
The little-known Fibre Expressway was founded in 2016. This new project is being primarily funded by approximately $650 million in debt and $850 million in equity, both of which are in progress and open for new investors. The company is reportedly working with French investment bank Natixis.
The company says the project will also link up with renewable energy projects in the area.
"We're partnering with wind, solar and, in the longer term, ocean and clean hydrogen providers to satisfy the need for 100 percent renewable energy access over time," said Group Managing Director Peter Bannister.
The project will also facilitate onshore connectivity for remote indigenous communities.
"Project Koete will provide benefits to Indigenous communities by way of jobs and eHealth and eLearning," said Kennedy.
Last month a new startup from NextDC-founder Bevan Slattery unveiled plans for HyperOne, a 20,000+ km (12,000 mile) AU$1.5 billion (US$1.1 billion) hyperscale national fiber network across the country.