US President Donald Trump is pushing forward with several import tariffs aimed at China, and markets are concerned this could lead to a major trade war.
Up to $60 billion in Chinese goods could be targeted in a presidential memorandum signed by Trump. Before that happens, the administration said it will publish a list of impacted products and any tariff increases within the next 15 days, and then hold a 30-day consultation period. Some 1,300 products are thought be under tariff consideration, many in the technology sector.
Trump also set a 60-day deadline for the Treasury Department to develop investment restrictions, to prevent Chinese-controlled companies and funds from acquiring US firms with sensitive technologies. Previously, President Trump cited national security concerns as a reason to block Broadcom's planned takeover of Qualcomm and Canyon Bridge's acquisition of Lattice Semiconductor.
The US Trade Representative (USTR) has also been directed to file a request for consultation with China at the World Trade Organization (WTO) over alleged unfair technology practices.
China has indicated it will retaliate against any tariffs the US levies against it.
Short everything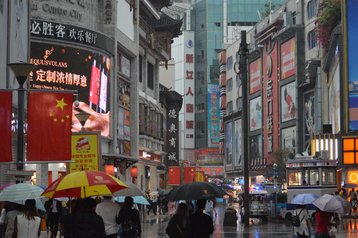 "China uses foreign ownership restrictions, including joint venture requirements, equity limitations, and other investment restrictions, to require or pressure technology transfer from U.S. companies to Chinese entities," a Presidential Memorandum signed by Trump states.
"China also uses administrative review and licensing procedures to require or pressure technology transfer, which, inter alia, undermines the value of U.S. investments and technology and weakens the global competitiveness of U.S. firms."
The memorandum continues: "China imposes substantial restrictions on, and intervenes in, U.S. firms' investments and activities, including through restrictions on technology licensing terms."
Those restrictions, Trump states, make it difficult for US technology owners to negotiate "and set market-based terms for technology transfer. As a result, U.S. companies seeking to license technologies must do so on terms that unfairly favor Chinese recipients.
"Third, China directs and facilitates the systematic investment in, and acquisition of, U.S. companies and assets by Chinese companies to obtain cutting-edge technologies and intellectual property and to generate large-scale technology transfer in industries deemed important by Chinese government industrial plans."
The memorandum adds that the Chinese government agencies hack computer networks in the US to provide the state with intellectual property, trade secrets, or confidential business information, "including technical data, negotiating positions, and sensitive and proprietary internal business communications."
That data is used to "support China's strategic development goals, including its science and technology advancement, military modernization, and economic development."
The claims come after a seven-month investigation into China's efforts to compete with American technology companies, undertaken by the Office of the United States Trade Representative.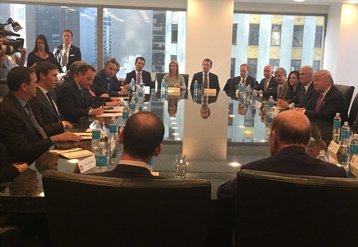 Cloudy with a chance of trade war
In a 215 page document detailing its findings, the USTR highlights China's restrictions on foreign cloud computing firms.
"China has prioritized the development of its cloud computing sector and seeks to raise its indigenous cloud computing capability and achieve "systematic breakthroughs" in "indigenously innovated core technology" by 2020," it states.
After inviting comments during the investigation, the office claims that "the Chinese government has used regulatory ambiguity to benefit Chinese cloud computing businesses and pressure technology transfer. China first tacitly permitted foreign investors to partner with licensed Chinese cloud service providers in order to gain market access, and then, once key technology and know-how had been injected into these partnerships, China resolved the regulatory ambiguities that had necessitated these arrangements in favor of the Chinese partner, resulting in the transfer of technology to the Chinese partner."
It continues: "China precludes U.S. cloud service providers (CSPs) from directly participating in the three most common forms of cloud computing: computing infrastructure as a service (IaaS); computer platform as a service (PaaS); and computer software as a service (SaaS). CSPs must obtain certain value-added telecommunication licenses, such as an internet data center (IDC) license, from China's MIIT or its local counterpart to operate their businesses."
According to numerous submissions, China does not actually grant such licenses to US investors, the office claims, "and thus does not permit U.S. CSPs to provide cloud computing services directly to customers in China."
With the global nature of cloud computing, "forgoing the China market is simply not a commercially viable option for U.S. CSPs, whose customers demand globally available services.
"This is particularly the case for technology companies that have invested in and built up a market share in China in areas that are rapidly transitioning to cloud-based delivery. Thus, a business built on managing a customer's computing resources, or supplying and maintaining software applications has little option but to offer those services on a cloud basis, given the economic, technical and security superiority of the cloud model, the transition to which customers now demand."
Therefore, if US companies wish to offer cloud services in China, they have to play by China's rules - which, the document states, keep changing. 2016's draft documents like theNotice on Regulating Business Operations in Cloud Service Market and the Circular on Cleaning Up and Regulating the Internet Access Service Market are making things even harder for US firms.
"According to the written submissions in this investigation, these measures effectively prohibit, inter alia, the Chinese license holder from providing any facilities or other resources to the foreign CSP; the foreign CSP from entering into contracts with customers directly; and the provision of cloud services under the trademark of the foreign CSP."
US (and other non-Chinese) firms with existing contractual arrangements that are inconsistent with these draft notices face having to "restructure their existing arrangements and relinquish ownership and operations of their cloud business to a Chinese company."
This has led to joint ventures, as with the case of IBM and Dalian Wanda, and apparently sudden technology sales, as with AWS and Beijing Sinnet.
Then there's the matter of China's attempts to force companies to disclose proprietary information, sometimes involving 'expert panels' consisting of not just Chinese government officials and academia, but employees of rival domestic firms.
Under China's Cybersecurity Law of the People's Republic of China, which remains in draft, "stakeholders report concerns that current ambiguities in the law will be used to pressure unnecessary disclosure of companies' most critical technologies.
"For example, companies may be forced to disclose critical technologies, including source code, complete design databases, behavior models, logic models, and even floor plans and physical layouts of central processing units."
More than 40 global business groups petitioned Chinese Premier Li Keqiang in 2016 over the restrictions, and companies including Microsoft, Intel and IBM objected publicly against handing over proprietary source code.
Now what?
The three new measures - proposed tariffs, investment restrictions and a WTO showdown - come after the US already announced it would impose tariffs of 25 percent on steel and 10 percent on aluminium.
Those tariffs were originally set to impact most of the world, but on Thursday, US trade representative Robert Lighthizer said that Canada, Mexico, Europe, Australia, Argentina, Brazil and South Korea would be exempt.
Chinese foreign ministry spokeswoman said Beijing would "take all legal measures to protect our interest" if the US took "actions that will harm both China and itself".
Chinese ambassador Cui Tiankai said in a video posted to the embassy's Facebook page: "We will retaliate. If people want to play tough, we will play tough with them and see who will last longer."
The nation also pointed to a ruling by the World Trade Organization (WTO) that found that the US had not fully complied with a 2014 decision on its anti-subsidy tariffs on Chinese products, including solar panels and wind towers.
With the world's two largest economies appearing to be squaring up for a trade war, markets reacted negatively - the Dow Jones dropped more than 300 points, with bank and tech stocks particularly impacted. The FTSE-100 closed down 86 at 6952.59, the first time it closed below 7,000 since December 2016.
US business groups welcomed action against China's approach to foreign technology companies, but some questioned the validity of the administration's methods.
"American business wants to see solutions to these problems, not just sanctions such as unilateral tariffs that may do more harm than good," said John Frisbie, president of the US-China Business Council, which represents firms that do business in China.
The USTR cites technology groups Computing Technology Industry Association (CompTIA), Information Technology Industry Council (ITI), National Foreign Trade Council (NFTC) and the Telecommunications Industry Association (TIA), all sharing concerns about technology transfer, joint ventures and Chinese cloud computing. "TIA adds that China is increasingly excluding foreign ICT equipment from many Chinese information networks in a variety of industries."
This heightening of tensions comes a day before the China Development Forum in Beijing, which will see Apple CEO Tim Cook, Google CEO Sundar Pichai, IBM CEO Ginny Rometty and Qualcomm CEO Steve Mollenkopf talk about their business relationships with the country.