New Asian Edge data center firm Turbidite has partnered with Asian satellite firm AsiaSat to offer hosting services from a ground station in Hong Kong.
The two companies this week announced a partnership to "leverage AsiaSat's existing satellite and ground infrastructure with Turbidite's dynamic Edge data center platform."
The companies will provide hosting services alongside satellite and ground-based connectivity from AsiaSat's Tai Po earth station in the New Territories, Hong Kong.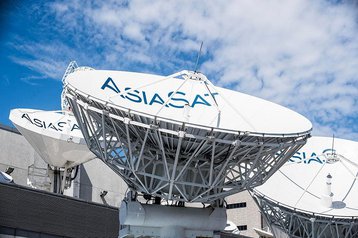 "We are delighted to enter into this partnership with AsiaSat as we broaden our Edge data center solutions to support new mandates by the growing number of OTTs and media companies as they continue to drive up digital traffic," said Bill Barney, co-founder & chief executive officer, Turbidite. "Together with AsiaSat, we are able to further empower these customers to transform into digital-ready organizations with secure access, flexible transport/bandwidth options, and real-time deployment."
Hosting services will reportedly be ready to offer next year. According to AsiaSat's website, the station is a two-level building of 6,775 sq.m. built on a 13,638 sq.m. site and equipped with 19 antennas. The current hosting facilities at Tai Po measure 800 sqm (8,600 sq ft) but is reportedly expandable to 25,000 sqm (270,000 sq ft).
Turbidite was founded in March by former Global Cloud Xchange CEO Bill Barney and is backed by Hong Kong property firm New World Development Company Limited. The company is building a data center in Guam.
Hong Kong-based AsiaSat operates a fleet of five in-orbit satellites – AsiaSat 5, AsiaSat 6, AsiaSat 7, AsiaSat 8, and AsiaSat 9, and teleport infrastructure. AsiaSat is a wholly-owned subsidiary of AsiaSat Holdings, which is jointly owned by Chinese-state-owned investment company CITIC and Carlyle through a company called Bowenvale Limited. AsiaSat Holdings became a private company following its successful privatization in Sep 2019.
"We see this partnership as one of our strategic moves to support customers with a breadth of new services to cope with the rapid pace of digital transformation," said Roger Tong, chief executive officer, AsiaSat. "Turbidite's extensive expertise in the data center and network infrastructure deployment and management will truly complement our current satellite and ground-based solution portfolios. We look forward to working with Turbidite to further develop and enhance our infrastructure to meet the flexibility and diversity required by our customers."
Ground stations and data centers are becoming increasingly intertwined. Microsoft has installed its own ground segment infrastructure at a number of data centers and is also hosting SES ground infrastructure for its new O3b mPOWER broadband satellite constellation; Google is to host SpaceX ground stations at a number of sites; and Amazon has at least nine ground stations installed at or directly connected to its data centers around the world.