More than four million sq ft of data center developments could be coming to Culpeper County in Virginia.
Culpeper Town and County Councils have seen rezoning requests submitted that would allow around 17 buildings developed across two campuses located on the town's border along McDevitt Drive.
Peterson Companies gets ok for rezoning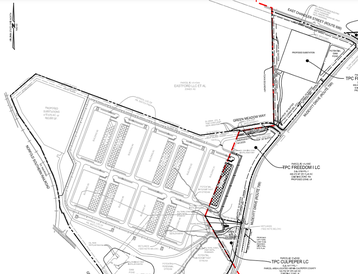 First reported by the Culpeper Star-Exponent, the Culpeper County Planning Commission last week voted 7–1 to approve the request to rezone approximately 34.4 acres from RA (Rural Area) to LI (Light Industrial) along Route 799 (McDevitt Drive) and Route 699 (East Chandler Street), in the Stevensburg Magisterial District.
TPC Culpeper LC and TPC Freedom I LC made the request, with the Star-Exponent saying Peterson Companies is developing the site, which is part of the County's McDevitt Drive Technology Zone.
The site lies on the border of Culpeper Town and the wider County. The adjacent land parcels are already all zoned LI. In total, the company is planning up to nine buildings totaling 2.1 million sq ft (195,100 sqm) with two on-site substations.
The company's director of development Adam Cook told the commission they were in conversation with three potential tenants for the campus. Cook said that they expect to submit the site plan in August and get approval by the end of the year.
"We are prepared to move as quickly as the process will allow us to," he said.
Commissioner Katie Reames voted against the request and made a motion to deny the rezoning application, which received no second.
She said the data centers would generate more large-scale solar projects to power them, saying the industrial endeavors "rape our agricultural land."
"We are a very rural county," she said.
Copper Ridge campus seeks rezoning for data centers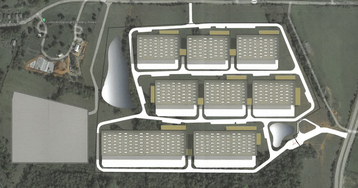 Immediately adjacent to the Peterson plot, Culpeper Town Planning Commission is considering rezoning two properties located off of East Chandler Street in the East Fairfax Magisterial District to 'Industrial District' (M2).
The 116-acre Copper Ridge Data Center Campus could see up to eight two-story data center buildings developed totaling 2.36 million sq ft (219,250 sqm), as well as an on-site substation.
Six of the buildings would total 250,000 sq ft (23,225 sqm), one would total 380,000 sq ft (33,300 sqm), and the largest would span 480,000 sq ft (44,600 sqm).
The plot is immediately north and west of the Peterson proposals. It isn't clear which company is behind the development at this stage, but the land is owned by CR1/Culpeper LLC and CR2/Culpeper LLC.
CloudHQ is potentially part of at least one of the developments, having acquired 100 acres along McDevitt Drive last year with reported plans for a 2.1 million sq ft campus.
More in Construction & Site Selection