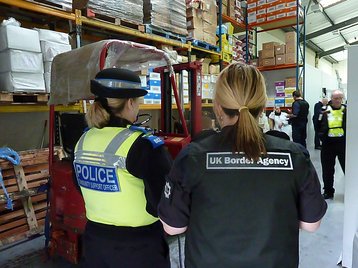 The Public Accounts Committee called out the "sad litany of failures" in the Border Force, which has left the emergency service network and e-Borders struggling and seen hundreds of millions spent on failed projects.
The Digital Services at the Border program was meant to be operational by 2019, and is planned to be able to process 140 million annual visitors. But it is behind schedule, and MPs doubt it will be able to cope when it finally launches. Delays have cost £173m ($240m). The 26-year old system used for checking if UK entrants pose a danger is set to be replaced by the Border Crossing software, but it has yet to be fully deployed.
The Emergency Services Network, meanwhile, is six years behind schedule, and costs £650m ($901m) a year.
Among the £173m costs is £50m ($69m) "associated with the changes that we needed for Border Crossing," the Border Force director general Paul Lincoln said during questioning by MPs. "Changes associated with the approach to having to put in secret data centers, and a federated watchlist."
When asked why work on data storage couldn't have happened earlier, allowing for lower costs and more predictability, Border Force senior director of systems and change John Gillan claimed that "it wasn't clear at that point that we were going to have to move from treating all the data as either official or confidential to a position where we would have to treat a significant amount of data as secret."
The Office asked other government departments, like the Ministry of Defence and GCHQ whether it could use their facilities, but was rejected. "Therefore, by the end of 2015, the program had taken the decision that it would be necessary for the Home Office to build its own data center to manage that secret data," Gillan said. The Office did not reply to a request for clarification on whether it rented space or if it "built its own data center in which to house it," as claimed.
In a prior statement, the Home Office said that it agreed with the account of historical issues. "Following the reset of the Digital Services at the Border program in 2019, the rollout of the new Border Crossing system is on schedule to be completed by the end of June 2021, delivering increased efficiency and providing a better experience for travelers," a spokesperson said.