The UK government has bought a second quantum computing simulator from French firm Atos.
According to a government tender announcement, in December UK Research & Innovation awarded Atos £385,000 ($470,000) for a 'Quantum Learning Machine' (QLM).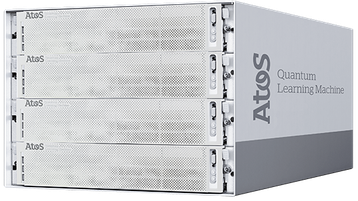 "The Quantum Learning Machine is a quantum simulator – a computer system for simulating the behavior of quantum computers," the tender said. "The Hartree Centre currently has one unit, and is purchasing a second to add to the address resourcing issues with large quantities of users wanting access."
The government said the system being procured allows simulation of quantum computers up to 38 qubits, and comes with 3-year support and maintenance.
Launched in 2017, the Atos QLM uses Atos' BullSequana X800 servers and produces simulations of quantum computers based on three different quantum programming modes - the gate model, the annealing model, and the analog model.
The Hartree Centre, located at Daresbury Laboratory, is one of the UK's only supercomputing centers dedicated to industry applications meaning that businesses can access specialist expertise and HPC that isn't normally accessible outside of large-scale industries and academia. The center houses the 4 petaflops Scafell Pike Bull Sequana X1000 and an existing Atos Quantum Learning Machine, as well as the Bull Atos Nvidia DGX1 Max-Q system known as Jade 2 for the University of Oxford. It formerly hosted 1.4 teraflops IBM Blue Gene/Q Blue Joule supercomputer, before it was moved to the DiRAC facility at the Institute for Computational Cosmology at Durham University in 2016.
Atos has previously announced deals to supply QLMs to the Galician Supercomputing Center, the Leibniz Supercomputing Centre, and OVHcloud.
In other recent procurement news, Land Registry has signed a three-year, £2 million ($2.44m) hosting deal with Crown Hosting to locate its system at the company's Farnborough site. The agreement will run from November 2022 to October 2025.
South West Police Procurement Service, which provides procurement services to Avon and Somerset, Devon & Cornwall, Dorset, Gloucestershire, and Wiltshire Police, has awarded CDW a £1 million ($1.2m) storage area network contract.
"The PCC for Avon and Somerset has awarded a contract for the refresh of Avon and Somerset Constabulary's storage area network (SAN) as part of the Infrastructure Transformation Programme across the three main data centers at Portishead HQ, Patchway Police Centre, and Bridgwater Police Centre," the tender said.