HM Revenue & Customs is reportedly looking to get unpaid taxes from numerous celebrities and other investors, who funded a pair of data centers as an alleged tax avoidance scheme.
By using an initiative meant to revive depressed areas of the UK, those involved were able to claim tax relief greater than what they paid in for funding data centers in Tyneside that have as yet remained unused.
Last month, the empty Cobalt Data Centres 2 and 3 began being marketed by a new company, Stellium, but two of its three directors were original investors in the data centers and directors of the buildings' developer.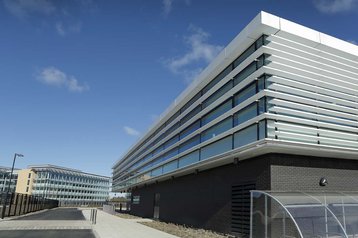 Using data centers to get out of paying tax
675 people invested £79 million in 2011 in the Cobalt facilities, but received £131 million in tax relief, due to the scheme.
Among those included were UK footballers and celebrities such as Wayne Rooney, Jimmy Carr, Rick Parfitt, Kenny Dalglish, Roy Hodgson, Terry Venables, Mikel Arteta, Marouane Fellaini, Lady Elizabeth-Ann Redgrave, Arsene Wenger, and the producer of the Harry Potter films, David Heyman.
While there is no suggestion of wrongdoing by the investors, or that they knew the facilities would not be tenanted and functioning by now, the BBC reports that some investors have had tax payment demands.
The investors received accelerated payment notices (APNs), where they must pay first before they can appeal. The move is part of a crackdown on "aggressive avoidance," where citizens have not committed a crime or taken part in tax evasion, but have acted outside of the spirit of the law.
Project backer Harcourt Capital told the BBC that HMRC opened an inquiry in 2012, but actually began working on it in 2015. 
"We are seriously concerned that HMRC's actions are treating investors who fundamentally supported successive governments' efforts to successfully regenerate derelict areas of the country extremely unfairly," it said, referring to the tax allowance law it used for the facility just before it was abolished in April 2011.
This was "creating considerable stress and financial burdens on individual taxpayers", it added.
Harcourt claimed that the data centers were delayed because the industry proved a "more difficult market to predict than was originally expected."
In 2012, when news of the scheme first broke, The Guardian reports that Margaret Hodge, chair of the Commons public accounts committee said: "It is deeply depressing to find greedy individuals exploiting a perfectly proper government objective, to line their pockets. Enterprise zones aimed to create jobs, not to enable rich people to get more money back in tax than they invested."
Martin Taylor of Rebus Investment Solutions added: "Huge money, around £600m, suddenly went into data centres just before the old enterprise zone allowances were abolished. You have to question whether the demand was there for three data centres in the same location [another was built by other investors], or whether they were principally to shelter tax."
The new company, Stellium, may be set to finally turn the data centers into an operating business. The group is led by data center veteran Noel Meaney, who previously ran euNetworks until 2010, and Irish data center firm Citadel100. DCD has contacted Stellium for further information, and will update the story when we hear back.
Update: A member of the senior management team of Stellium told DCD when asked whether the company was connected to Harcourt Capital: "No. Harcourt or Harcourt personnel have no connection what so ever to Stellium. Stellium is a brand new stand-alone entity."
When asked how the company will approach the facilities differently to the previously rather slow approach, the team member said: "The Stellium management team has a proven track record of successfully turning around assets such as these both in the UK and Ireland. They are focused on using this experience to deliver one of the most modern data centers in the UK to the North East of England."
Another spokesperson for the company was also keen to point out that Stellium has already installed new equipment and fiber since acquisition.
—
Note: Cobalt Data Centres is unrelated to Nevada colocation company Cobalt Data Centers