UK data center firm EfficiencyIT has launched its own range of prefabricated modular data centers.
The company this week announced ModularDC, a new range of customizable, prefabricated data centers for on premises, distributed IT, and Edge computing environments that are deployable in 12-16 weeks.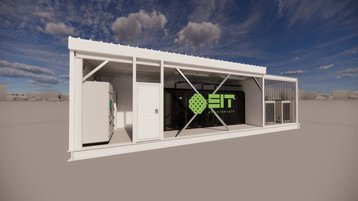 Designed, manufactured, and engineered in the UK, EfficiencyIT said the new range combines the company's design expertise and range of external enclosures with Schneider Electric's EcoStruxure and APC technology.
ModularDC's range includes options for in-row cooling, hot and cold-aisle containment, and liquid-cooled solutions for high-performance computing requirements, and allow for customer choice of uninterruptible power supplies (UPS), backup generators, low voltage (LV) power equipment, and switchgear. Ruggedized solutions are available and include customization options for RF-shielding, enhanced physical security, acoustic mitigation, and SCIF-compliance.
"Since 2017, our company has been designing, specifying, and installing prefabricated systems for customers' application-specific data center requirements," said Nick Ewing, managing director, EfficiencyIT.
"By enhancing our offering with dedicated UK manufacturing capabilities, all of which are fully complementary to the solutions offered by our partners at Schneider Electric, we're ensuring our customers' demands for bespoke, agile, and ultra-secure data center environments can be met quickly, efficiently, and with the engineering reliability our business has built its reputation upon."
EfficiencyIT also notes it uses virtual reality in the design process to allow customers to see their data center in immersive 3D before the build process begins.