Infinera is going to double the capacity of the transpacific Unity Submarine Cable system.
The company has announced that its ICE6 800G optical solution has been deployed to the submarine cable, dubbed Unity, which connects the US and Japan, spanning 9,620 kilometers.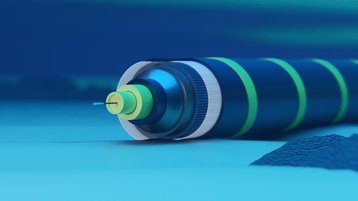 In Japan, Unity lands in Chikura, near Tokyo, where it is connected to multiple other networks for connectivity into Asia. On the west coast of the US, the system lands in Los Angeles, California.
The Unity Submarine Cable System is a subsea consortium including Bharti Airtel, Global Transit Limited, Google, KDDI Corp., Telstra, and Singtel. The ICE6 upgrade should increase the lifespan of the system by almost 25 percent and will deliver up to 7.4Tbps per fiber pair. The level of performance is achieved through Nyquist subcarriers, forward error correction gain sharing, and photonic integrated circuit-based technology.
Nick Walden, senior vice president of worldwide sales at Infinera, claims that Unity is one of the highest-capacity fiber optic cables ever built between Asia and North America.
"The increased capacity will help operators in Asia and the US meet the increasing bandwidth demands on both sides of the Pacific," Walden added.
The Unity cable was first launched in 2010, originally providing up to 4.8Tbps per second of bandwidth. It consisted of five fiber pairs, each pair delivering 960Gbps.
"Infinera's innovative ICE6 technology was selected to upgrade our system because it enables us to extend the life of the Unity Submarine Cable System while providing the highest level of quality for our customers," said the Unity consortium. "The Unity Submarine Cable System is a critical connection between two continents with the fastest growing bandwidth needs. We needed an industry-leading solution that would enable us to be competitive now and in the future."