The University of Luxembourg has inaugurated its Aion supercomputer.
The university held an inauguration ceremony at its Belval Campus this week for the new €3.5 million ($4m) machine.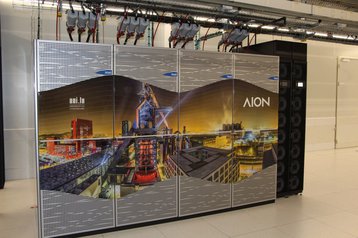 The HPC system, housed in the University's "Centre de Calcul" (CDC) data center in Belval, will be used to research the fields of computer science, materials physics, bio-medicine and life sciences, cryptology and artificial intelligence, as well as digital history and socio-economic simulations.
"Excellent research and teaching need excellent research infrastructures. With AION, the University reinforces its position as an international frontrunner in HPC, and further enhances its attractiveness for the most covetable academic staff, experts and students, and thereby increases Luxembourg's talent pool," said Prof. Jens Kreisel, University of Luxembourg's Vice-Rector for research.
Named after a Hellenistic deity associated with time, the orb or circle encompassing the universe, and the zodiac, Aion is an Atos BullSequana XH2000 consisting of 318 compute nodes featuring AMD Epyc processors, totaling 40,704 compute cores and 81408 GB RAM, with a peak performance of about 1.7 Petaflops.
"The installation and setup of this powerful machine and its associated ecosystem was delayed by one year as a consequence of the Covid-19 pandemic," said Dr. Sébastien Varrette, HPC Manager at the University. "We are now very proud of this new tool, which is the most powerful supercomputer the University ever deployed! This would not have been possible without the tremendous efforts of the partners involved, including at the University and at Atos."
By combining the university's existing Iris supercomputer with Aion, the university has total computing capacity of 2.8 petaflops and a shared storage capacity of 10 petabytes.
The 12.5 terflops Chaos was installed in 2007, with the 145.5 teraflops Gaia following in 2011. Both systems were decommissioned in 2019. Iris, with peak performance of about 1.07 petaflops, was installed in 2017. Aion will be the university's flagship supercomputer until 2024.