The Commerce Department will not enforce its order to ban TikTok from the US, pending further legal challenges.
Under an order due to take effect today (12 November), the Chinese social media app would have been required to essential close its US operations, while other companies would be blocked from providing Internet-hosting or content-delivery services to TikTok parent ByteDance.
The US government has appealed the Commerce Department's order.
It's still all up in the air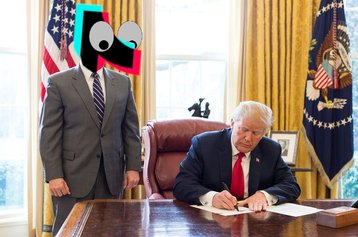 President Donald Trump originally signed an executive order banning US companies from doing business with ByteDance way back in August, giving a deadline of September 20.
The only way to avoid a shut down, the president said, was to sell off its US operations to a domestic company.
TikTok then sued the US government over the ban and forced sale, while also courting potential suitors. Its lawsuit pushed the potential ban back to after the US election which Donald Trump lost. Three TikTok users brought a case, in which Judge Beetlestone has ruled that the government action "presents a threat to the 'robust exchange of informational materials.'" This view was quoted by the Commerce Department in its decision to not enact the ban.
Amid all this, several businesses held acquisition talks with TikTok, notably Microsoft. But in late September, TikTok said that it might spin off its US operations into a new company, with existing ByteDance shareholders joined by Oracle and Walmart. As part of the deal, TikTok would move its service to Oracle's cloud platform, a distant competitor to the hyperscale giants.
That deal, endorsed by Trump and pushed by Trump donor and Oracle founder Larry Ellison, now appears less likely. With the US government in transition, and a ban not enforced, it is not clear if there is any appetite to force a sale, let alone a legal grounding.
Critics also pointed out that the terms of the sale would not have significantly changed ownership, or alleviated security concerns. After the deal was announced, President Trump told a campaign rally that TikTok Global would spend $5bn on teaching students "the real history of our country," jeopardizing the sale as this was news to everyone else.
Complicating matters further, should all US parties agree to the spin-off/sale, it would still have to be approved by the Chinese government - which recently brought in new restrictions regarding the export of algorithms.
Throughout the battle, carried out in courts and the media, ByteDance has maintained that all US data is kept on US servers. Back in 2019, it entered into a three year, $800m deal with Google Cloud. It also leases its own data center space, including from Digital Realty. This year alone, it signed new leases for 53MW in Northern Virginia - in contracts that would have been at risk had the Commerce Department's ban been enforced.
Of particular concern to the department was the fact that ByteDance also leased space in an undisclosed number of China Unicom Americas data centers in the US. In its legal challenge, ByteDance said that CUA only provided electricity and space, while ByteDance maintained ownership of the servers and data within them.