The energy used in US data centers grew by only four percent in the last five years, and could shrink in the next five, according to a US government sponsored report which contradicts fears of an explosion in energy consumption by the cloud.
In 2014, data centers in the US consumed 70 billion kWh, a figure only four percent higher than the usage in 2010, according to to the report, United States Data Center Energy Usage, sponsored by the Department of Energy, and put together by researchers at the Lawrence Berkeley National Laboratory led by Arman Shehabi. This is a significant slow-down on the growth from 2000 to 2010, and has come about despite a huge growth in demand for data, because of current efficiency trends in data centesr.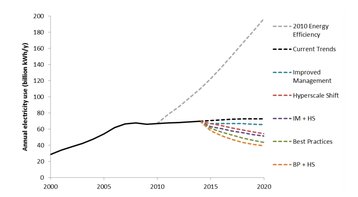 Efficiency cuts
"The combination of these efficiency trends has resulted in a relatively steady US data center electricity demand over the past five years, with little growth expected for the remainder of this decade," says the report.
Back in 2007, a report form the US Department of Energy had found energy use growing at an alarming rate. In 2011, a report from Jonathan Koomey found that two percent of US electricity output is consumed by data centers. Many people have predicted this must increase because of the explosion in use of data center services.
But even in 2011, Koomey noted that energy growth was slowing. After growing 90 percent in the first five years of the century, Us data center electricity consumption only went up 26 percent in the second half of that decade.
Some of that slowdown was due to the recession, but also the spread of virtualization and consolidation, increased the utilization of resources and made data centers more efficient.
The new report notes that the demands on data centers are continuing to grow and publishes a graph which includes a dotted line of energy consumption at 2010 rates of efficiency, with then-current levels of server and storage utilization, PUE, and power draw for basic components. On that basis, by 2020, data centers would have burned extra energy totalling 600 billion kWh.
In the real world, of course, current efficieny trends will continue, and the explosion in capacity can be provided with only a modest growth of energy usage. Servers are becoming more efficient and the growth in server shipments has slowed to a trickle.