Vantage Data Centers is planning a second campus in Johannesburg, South Africa.
On the same day Equinix announced its first South African facility in Johannesburg, Vantage announced JNB2, to be located in Ekurhuleni, in greater Johannesburg.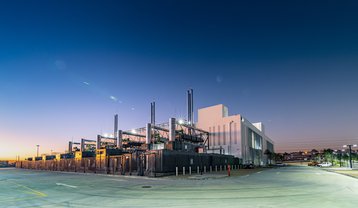 The first building of the JNB2 Islando campus will consist of a 20MW, 355,000 square foot (33,000 square meters) two-story data center and will be operational in mid-2024. Vantage is repurposing a portion of an existing warehouse for the initial phase.
"South Africa continues to be a cornerstone for Vantage's EMEA growth outside of continental Europe," said Antoine Boniface, EMEA president at Vantage Data Centers. "Investing in a second campus is a testament to our commitment to the region and our customers who have business requirements to be in this high-demand market."
The first data center on the JNB2 campus will be cooled using a closed-loop chilled water system generated through air-cooled chillers, while an integrated economizer capability will allow reduced compressor energy based on outside ambient temperature.
The Municipality of Ekurhuleni will provide power, and the site will include a dedicated on-site, high-voltage substation. The power at the site will be offset via renewable power through a 20-year power purchase agreement (PPA) the company signed with SolarAfrica in June.
After breaking ground in October 2021, Vantage opened its first South African facility in Johannesburg in July 2022. The two-story JBN11 facility offers 16MW of critical IT capacity across 130,000 square feet (12,000 square meters). Located in Waterfall City, Vantage's 30-acre (12 hectares) JBN1 Midrand campus will offer 80MW of capacity and more than 650,000 square feet (60,000 square meters) across three data centers once fully developed.
The company won the Middle East & Africa Data Center Development Award at this year's DCD Awards for the first building at its JBN1 campus.
In a LinkedIn post announcing JBN2, Boniface added: "We are also expanding our award-winning campus in Midrand, the next phase will be operational in early 2024."