Vantage Data Centers has applied for permission to develop a new campus in Ashburn, in Virginia's Loudoun County.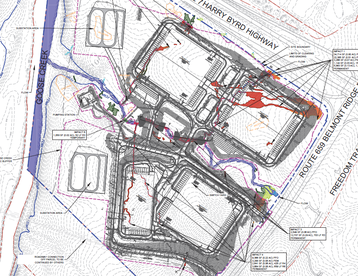 The district commander of the US Army Corps of Engineers has received a joint permit application for federal and state permits from Vantage for its VA3 data center campus.
According to the filing, Vantage aims to construct a 'large-scale data center campus' on 134 acres west of Belmont Ridge Road (Route 659) and south of Harry Byrd Highway (State Route 7), Loudoun County, Virginia.
Site plan documents suggest four buildings and an on-site substation. Timelines of development or campus capacity weren't shared.
The filing notes the development will impact just over two acres of wetlands and 3,551 linear feet of stream channel. The company reportedly proposes to compensate for the loss of wetlands through the purchase of wetland credits from the Northern Virginia Stream Restoration Bank and the stream loss through the assignment and purchase of Compensation Credits from The Nature Conservancy of Virginia.
According to DgtlInfra, Vantage acquired the land at 19509 Belmont Ridge Road for $180 million last year from Barcroft Associates, an entity controlled by Charles (Chuck) B DeLashmutt.
Vantage's existing 'Ashburn VA1' campus, located at 45200 Vantage Data Plaza in Loudoun County's Sterling, spans 42 acres. At full build-out, it will feature five buildings spanning more than one million sq ft and offering more than 146MW. Two buildings are currently in operation, with a third in development. The company recently bought 10 acres across the road from the VA1 site, likely for further campus expansion.
Vantage bought a total of 17 acres located at 22318 Glenn Drive in Sterling for $46 million in October 2021. The site is reportedly for Vantage's VA2 campus. According to documents filed by Loudoun County Economic Development, the site will have up to 96MW of capacity across 800,000 sq ft (74,325 sqm) of data center, likely split across two buildings.