Vantage Data Centers is entering the London market with a 48MW, £500 million ($600 million) data center campus.
The company has also announced that it has opened a second 40MW data center at its existing Cardiff campus.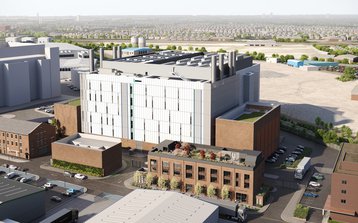 Vantage's first London data center LHR1, and 11th EMEA campus, will be located in the five-acre PowerGate neighborhood of North Acton, an already-established data center community that is already home to data centers owned by Colt DCS and Equinix.
Vantage's campus will total 430,000 sq ft (40,000 sqm) across two 24MW multi-story data centers, offer 300W-per-sq ft (3.23kW/sqm) average densities, and is expected to open its doors to hyperspace customers and cloud providers in late 2024. The facility will be powered by the National Grid and cooled by a closed-loop chilled water system.
"Vantage has experienced rapid growth over the past three years as we continue developing state-of-the-art data center campuses across EMEA," said Antoine Boniface, president, EMEA at Vantage Data Centers. "With London being one of the largest data center markets in the world, this expansion further solidifies Vantage's role at the forefront of the digital infrastructure revolution. With relatively little inventory available in London and requirements on the rise, we are ideally positioned to deliver for our customers."
Tim Kay, deputy director for technology at the Department for International Trade in London has said of Vantage's entrance: "Vantage's presence in London will play a key role in enabling leading technology enterprises with additional IT capacity to support digital transformation initiatives and cloud adoption."
London, while anticipated to continue developing, has seen some opposition regarding new data center developments in the area. A proposed 600MW data center development in East London has faced opposition from both environmentalists and some councilors, reported in November, while a London Docklands residential development that was paving the way for a data center was rejected in October. Colt is planning a new 50MW facility in Hayes on the site of a former Sentrum/Optimum data center.
West London and Slough are facing power and water constraints due to the large and rapid increase in data centers in the area outpacing utilities' predicted timelines.
Vantage expands in Cardiff
Meanwhile, Vantage has also completed the first phase of its new development at its Cardiff Campus.
So far, 12MW has been completed out of the planned 40MW addition, and according to Vantage has one of the 'lowest PUE rations across all of Vantage's facilities' thanks to indirect evaporative free-cooling and 'complete reliance' on renewable energy sources (likely through PPAs or certificates).
Located in an industrial park in the town of Marshfield, the site was acquired by Vantage in 2020 from Next Generation Data (NGD).
Once completed, the Cardiff campus will cover 46 acres and will include three data centers totaling 148MW across 2 million sq ft (186,000 square meters), and a latency between Wales and London of less than 1.5 milliseconds.