Vantage Data Centers has secured a $300 million green loan for an upcoming data center in Virginia.
The loan was structured and arranged by Societe Generale, a European investment bank. The green loan is in recognition of the sustainable design features of its VA13 data center located in Northern Virginia.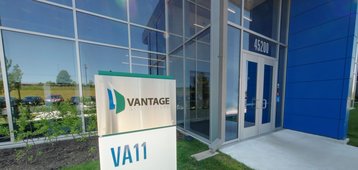 In order to qualify for a green loan, recipients must generally meet specific criteria for their sustainability measures such as water conservation and carbon emissions reduction as well as a low Power Usage Effectiveness (PUE).
"Not only does this green loan expedite our pursuit of sustainable solutions for data centers, but it adds to the diversity of Vantage's funding vehicles, enabling us to move quickly alongside customer demand," said Sharif Metwalli, CFO at Vantage Data Centers. "Partnering with hyperscalers often entails rapid development which can bring a substantial impact on the environment, but with this loan, we have the flexibility to prioritize speed without sacrificing sustainability. Given its many benefits, we anticipate leveraging green financing for future developments as we continue expanding our footprint globally."
VA13 will be a 44MW data center located on Vantage's 42-acre, 146MW campus in Ashburn, Loudoun County.
The 365,000-square-foot (33,900 sqm) facility is currently under development and scheduled to be operational later this year. This will be the third data center on the campus, which will total more than 1 million square feet (92,900 sqm) across five facilities once fully developed.
The campus features efficient cooling with outside air economization using minimal water, outdoor lights powered by solar and wind energy sources, solar-powered electric vehicle charging stations, and drought-resistant landscaping.
"Vantage is committed to reaching net-zero carbon emissions by 2030, and this loan gets us even closer to actualizing our goal," said Amanda Sutton, senior director of sustainability, Vantage Data Centers. "Vantage's dedication to sustainable operations made us an ideal candidate for this loan, and it's just one more step in our journey to positively impact climate change."
The company obtained a US$68 million green loan as part of a multi-phase financing from Societe Generale to fund the development of a third 32MW facility at its Quebec City campus.
"As the capital markets shift to green financing, we are thrilled to partner with Vantage to support their ongoing data center developments," said Valtin Gallani, director at Societe Generale Corporate and Investment Banking.
"With this financing, Vantage is likely the first data center operator in North America to issue a Project Specific Green Loan that is based on the Use of Proceeds, and we're very excited to be part of Vantage's next chapter of growth."