Silicon Valley start-up Vapor IO has revealed the Vapor Edge Module - a compact, pre-fabricated data center designed specifically to support multi-user colocation at the edge of the network. The whole construction is circular, and rotates around the central axis to offer access to a specific rack.
The company also announced Vapor Kinetic Edge, a software architecture that can combine multiple Edge Modules into a single virtual data center for ease of management and improved reliability.
The circle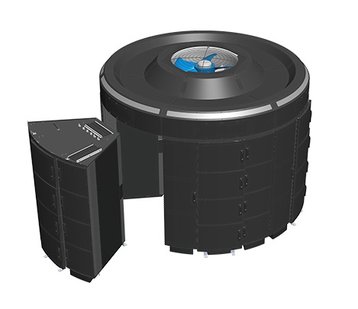 Vapor IO was established in 2015 by Cole Crawford, previously the executive director of the Open Compute Foundation and co-founder of the OpenStack project. The company's first product was the Vapor Chamber: a self-cooling, circular hardware rack that ingests cool air from the outside and exhausts warm air through the center, creating multiple 'hot columns' as opposed to a traditional hot aisle.
The Vapor Edge Module (VEM) is an all-in-one micro data center that's built to withstand adverse weather conditions and is based on the original Vapor Chamber design.
A single VEM includes all the necessary power distribution, cooling, fire suppression and security elements, and can support up to 150 kW of IT equipment across six racks.
The whole construction sits on a motorized turntable which can rotate 180 degrees in either direction. When access is required, a customer can enter a small alcove and present their credentials – the turntable then rotates, providing direct access to actual hardware.
Vapor IO claims this approach both increases security and reduces the amount of space needed for housing and servicing the equipment.
With Kinetic Edge, multiple micro data centers can be linked into a single logical facility that can span an entire city, with information replicated across physical locations to reach "twelve or more nines of availability."
"The edge is not a box. It's a highly-interconnected suite of hardware, software and connectivity working together in concert," Crawford explained.
"Our Kinetic Edge architecture and the Vapor Edge Module deliver true edge cloud by being part of a complete portfolio of products, including our flagship Vapor Chamber, all of which work together to deliver on customer needs. It's not enough to provide bent sheet metal. You need to tie all of the components together with thoughtful engineering and software so you can algorithmically and autonomically orchestrate the edge."