Next week, Silicon Valley start-up Vapor IO will demonstrate its proprietary 'Vapor Chamber' data center technology for the very first time.
The entire range of Vapor IO products will be exhibited at the DatacenterDynamics Europe conference at the ExCel center in London on 18th and 19th November.
The Vapor Chambers are essentially self-cooling, circular hardware racks that ingest cool air from the outside and exhaust warm air through the center, creating multiple 'hot columns' as opposed to a traditional hot aisle.
Vapor IO products exhibited at the show will include the complete Vapor Chamber, the Open Data Center Runtime Environment (Open DCRE) software and hardware – which will see its general release - and Vapor CORE management software.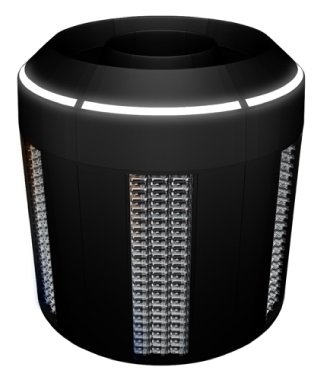 Seeing is believing
The Vapor Chamber was inspired by some of the work carried out by the Open Compute Project. The company was co-founded by the former executive director of the Open Compute Foundation, Cole Crawford, with the aim of reengineering the modern data center.
The Vapor Chamber places racks in a ring, so the movement of air is governed by physics. The heat output is automatically contained in a vertical column so just one fan at the bottom can control the rate at which the system is cooled.
Vapor Chambers don't require raised floors or any other building modifications - something that makes them especially attractive for 'edge' data center builders.
Vapor IO says its approach can increase compute density and lower both capex and opex investments when deploying either remote or on-premise facilities.
Crawford previously said that the Vapor Chamber technology would be able to deliver a PUE of 1.1 to everyone who wants it – that's efficiency on par with hyperscale data centers by Facebook or Google.
Next week, Vapor IO will bring a fully-working Vapor Chamber to London. The start-up will also demonstrate Open DCRE, its open source platform for data center telemetry and cloud monitoring.
Open DCRE enables users to create simple and inexpensive monitoring sensors which expose underlying operating environments all the way up to the operating system. It became the first accepted contribution to the Open Compute Foundation using the reciprocal license, thus ensuring that forks and branches will not emerge.
And finally, the company will demonstrate Vapor CORE, a management layer for Open DCRE that can accurately measure performance per watt per dollar.
Vapor IO has announced beta programs for both the Vapor Chamber and Vapor CORE, and will begin accepting applications on November 16.