Verizon is closing its Skyward drone operations and management unit.
The telco announced this week it was closing the drone subsidiary and would be focusing more on ground robotics instead.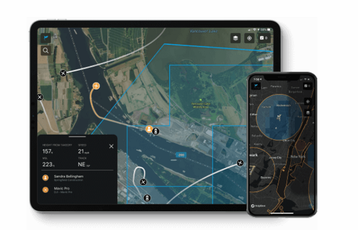 "We are announcing today that Skyward, a Verizon company, will be ending operations in the coming weeks," said an email to customers. "This was not an easy decision. The Verizon Robotics team will be focusing our efforts on ground robot management, connectivity services, and solution development."
Follow-up statements to telco and drone press from Verizon said the company remains focused on its investment in ground robotic management, connectivity services, and solution development.
"The Verizon Robotics Group enables enterprise customers to efficiently adopt and scale Autonomous Mobile Robots (AMR) to improve productivity, deliver faster time to insight, and reduce costs through automation and 5G," the company said. "This decision is about market agility and ensuring that Verizon continues to focus on areas that provide both near and mid-term growth opportunities. We continue to focus our investment on ground robotics including incubedIT, supporting industrial and outdoor uses in the US and Europe."
Founded in 2012 and having raised $8.15 million, Verizon acquired Skyward for an undisclosed amount in 2017. The telco acquired incubedIT – which develops autonomous navigation and fleet management software – in early 2021.
Skyward President Mariah Scott moved into Verizon's Robotics Business Technology division.
Rival drone firm AirData this week announced an automated data migration service to move affected Slyward customers over.
"We are here to help Skyward customers who are unexpectedly rushed to find a way to continue their operations uninterrupted," said Eran Steiner, founder and CEO of AirData. "Our goal is to minimize the complexity and learning curve for your organization. We've helped many customers migrate to AirData in the past, so please reach out on how we can assist."