Icelandic data center firm Verne Global has secured a $100 million loan.
This week the Digital 9 Infrastructure board announced the company has signed a new $100 million green term loan debt facility with an uncommitted $50 million accordion provision for Verne Global Iceland.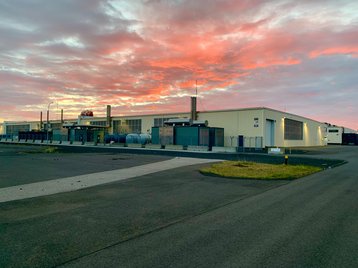 The syndicated facility is fully underwritten by Natixis, with a fixed term of five years maturing in June 2028. The money is a green loan taken out under the company's green financing framework, but the ESG targets of the loan weren't shared.
The fund will fund additional capacity under construction and development in 2023, refinance Verne Global's existing bridge loan facility for $26 million, and repay $50 million of the $62 million shareholder loan owed to D9 by Verne Global.
Phil Jordan, chair of Digital 9 Infrastructure, said: "The transaction represents an important step in our strategic plan to deliver complementary sources of growth capital and support our investee companies. As our portfolio matures, our borrowing policy allows us to evolve our investee companies' capital structure, ensuring the company follows a disciplined capital management approach."
Ralph Weichelt, head of debt capital markets at D9 manager Triple Point Investment Management, added: "We are delighted to secure this strategically important debt facility on competitive terms for Verne Global. As a verified green loan, securing the new facility demonstrates the viability of Verne Global's low carbon footprint and underpins D9's ongoing commitment to sustainability in digital infrastructure."
Verne Global operates a 24MW data center campus on a former NATO site near Keflavik, Iceland, offering colocation and high-performance computing services. D9 bought Verne for £231 million ($320m at the time) in 2021. The same year the company said it would spend $50m adding another 10MW, in addition to an already planned 8MW expansion.
D9 has since acquired and merged Finnish data center firm Ficolo and London's Volta Data Centres into the Verne brand.
Verne reportedly has a five-year pipeline to expand the capacity of its data center campus from the current 40MW to over 96MW, which will require £390 million ($483.6m) in capital expenditure.
D9 also said it has initiated a competitive process to syndicate a minority stake in the Verne Global group of companies to strategic capital partners. D9 said it will retain a majority stake in the firm.
Natixis acted as Arranger and Green Loan Coordinator, Taylor Wessing LLP acted as legal adviser to the borrower, and Latham Watkins LLP acted as legal adviser to Natixis.