Power and cooling vendor Vertiv has launched data center chillers which are more efficient thanks to oil-free compressors from Geoclima - that work by magnetic levitation.
Vertiv is selling chillers which use oil-free Turbocor compressors from Italian manufacturer Geoclima. The compressors use magnetic bearings, that levitate the moving parts instead of using oil, making them frictionless. The units, customized for the data center industry and branded Vertiv Liebert OFC, were launched at the Data Center World event in London last week.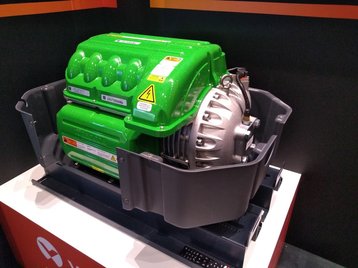 No-oil shock
"Oil free bearings are not a new technology," Alex Brew, Vertiv's sales director for UK and Ireland, told DCD. "It's technology that we've watched for a number of years. It is the most efficient air cooled chiller technology on the market."
Uptake in the data center has been slow because operators are risk-averse, but the time is right for it now, he said: "We've made a strategic investment because of some of the latest efficiency directives that have come in. It's a bit of a migration away from our traditional technology platform and therefore a partnership makes sense.
The partnership is based on Vertiv ensuring the product works for the data center market, and then offering the levels of support that data center customers demand: "The design has been optimized and studied very, very closely, to make sure that it is suitable for a pure data center environment. Geoclima didn't have penetration into the data center market; because of the demand for service and support," said Brew, adding that Vertiv's support is a lifetime partnership with its customers.
The Geoclima units use "active" magnetic bearings, which have to be powered up. It is good at modulating and has been used in offices, but previously also took a while to restart. Vertiv's work has been to refine it for a continuous steady load, and also for a fast start-up time, suited for a critical load.
Moving to the new units could also allow operators to step away from high global-warming refrigerants to more environmentally friendly ones with a low global warming potential (GWP), including R1234ze. Brew said. Other refrigerants including R513A and R134a are also available in the range.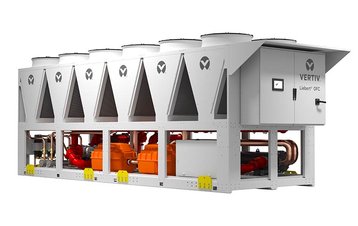 Vertiv has focused hard on free cooling of late, reducing the amount of time DX chillers are required, but it's now time to concentrate on chillers again, said Brew: "The ideal is to not use refrigerant based cooling at all, and just use the external air temperature, but there's always going to be a dependency on DX. We've pushed free cooling as far as it will physically go within the limits of our range, so now we have to focus back towards the DX element - which we will still rely on for a portion of the year."