American power distribution specialist Vertiv has launched what it claims to be the industry's highest power density UPS.
Liebert EXL S1 is a 60Hz transformer-free system that can protect up to 1200 kW of IT equipment while keeping the size of the units to a minimum. It operates at 97 percent efficiency in double conversion mode and 99 percent in economization mode, and is compatible with lithium-ion batteries.
Vertiv was known as Emerson Network Power until 2016, when Emerson decided to sell the division to Platinum Equity and its partners for $4 billion in cash.
Size matters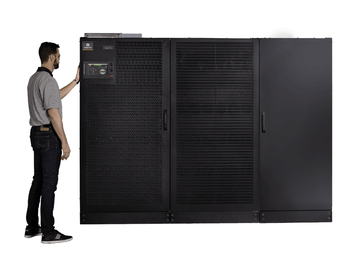 The Liebert brand was born in 1965 when Liebert Corporation became the world's first dedicated manufacturer and designer of computer room air conditioning systems. Today, it is part of Vertiv's core business, responsible for power distribution and cooling equipment.
The main selling point of Liebert EXL S1 is its size - according to Vertiv, this is the smallest footprint available for such kVA range, helping minimize the space required to house UPS and freeing up additional square meters for servers.
The system is currently available in 1000, 1100 and 1200 kW capacities, with smaller models (600, 750 and 800 kW) coming later this year. It features three-level insulated-gate bipolar transistor (IGBT) on both the rectifier and inverter.
Liebert EXL S1 can be configured in a distributed parallel mode, allowing users to link up to eight units for a total capacity of up to 9600 kW. It can also be easily switched from single to dual input. Access to control wiring and communication inputs is provided at the top of the unit.
"By listening, discussing and responding to our customer requirements, Vertiv was able to develop a new entrant in the Liebert EXL family to meet the demanding needs of the modern data center market. The result is an industry-leading high power density that marries size, flexibility and efficiency to minimize stranded facility space," said Peter Panfil, vice president for global power at Vertiv.
"The Liebert EXL S1 delivers on reliability and agility with configurations that address the critical needs for cloud, colocation and progressive enterprise environments – where the emphasis is on capital efficiency and reducing operating costs while enabling rapid deployment."