The Virginia Department of Environmental Quality (DEQ) has narrowed the scope of proposed restriction relaxations on data centers using backup generators amid energy transmission concerns.
The new proposals would only give data centers in Loudoun County greater leeway for relying on backup generators during potential grid issues over the summer, removing Fairfax and Prince William counties.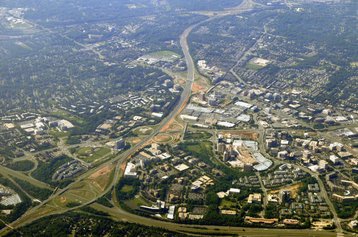 In July 2022, Dominion surprised Virginia's data center community with an announcement that it would essentially pause power delivery for new data center developments in parts of Ashburn until 2025 or 2026. It now seems the power delivery issue is acute enough that transmission constraints in the area could impact existing operations.
In January, the DEQ announced it was considering the issuance of a variance (i.e. exception to general rules) that would provide data centers located in Fairfax, Loudoun, and Prince William counties "a measure of relief" from existing regulations and permits that limit the use of Tier II and Tier IV emergency generators only during periods of a PJM-declared emergency.
The proposed variance would authorize data centers' on-site generators to operate during times that fall short of a PJM-declared emergency but during 'acute' transmission constraints and strain on the electric grid.
DEQ has since revised the proposals to restrict its application to emergency generators located at data centers in Loudoun County, removing Prince William and Fairfax Counties. The changes come after feedback from a February 27 public hearing.
"DEQ takes the public participation process very seriously and is making appropriate revisions to the proposal based on that input," said DEQ Director Michael Rolband.
The variance is necessary because DEQ is "concerned" that there may not be a sufficient amount of electricity for data centers in Loudoun due to "severe, localized constraints in electricity transmission."
"In particular, the period between March and July 2023 has been identified as a time of potentially acute stress on the transmission capacity of the grid."
The variance would be allowed to "maintain the integrity of Internet, and alleviate demand on the electric grid during periods of stress."
Data centers would also be required to notify the DEQ when they are operating the generator under the order's provisions and to calculate the air pollution emitted by each generator during those times, and the company would still be subject to the annual emissions limits contained in their existing permits.
DEQ notes, however, that the order is being issued as a "precautionary and redundant measure" in the event that transmission constraints have a negative impact in the area: "We do not anticipate that any data center will need to use this variance," the department said.
A spokesperson for PJM told previously told DCD: "Data center load growth in that area has the potential to cause system constraints. PJM and Dominion are working to build out the transmission system to support this load growth. This proposal from the VA DEP would allow for data center on-site generation to run during limited circumstances to bolster reliability for existing customers as construction outages take place in the region."
A Dominion spokesperson previously told DCD: "We're continuing to develop several near and long-term transmission projects to alleviate transmission constraints in eastern Loudoun. The first of the projects will be completed in late June. In the meantime and out of an abundance of caution, DEQ proposed the temporary variance as an additional tool for data centers in case it's necessary. To be clear, transmission capacity is not constrained outside of 'data center alley' in eastern Loudoun, and does not impact service to residential or small business customers, or any customers outside of the area."
A new DEQ public hearing will be held on April 6, with the public comment period extended from the original March 14 deadline until April 21. The original and new variance would expire on July 31.
The DEQ estimated there are more than 4,150 generators in Loudoun County that would fall under this order. It notes the exact number and duration of any generators fired up under the order cannot be predicted due to the localized nature of any PJM load warnings and the number of redundant generators operators might have that wouldn't be needed.