A number of new bills are being introduced by Virginia politicians that could impact developments in the state, with several specifically focused on the PW Digital Gateway project in Prince William County.
In November Prince William County officials voted in favor of changing the area's comprehensive plan, which paves the way for more than 25 million sq ft of data center development near the Manassas National Battlefield Park under a project known as the PW Digital Gateway. The amendments provide by-right zoning for data centers on the land along Pageland Lane in Manassas.
The decision – already subject to numerous protests from residents in the run-up to the vote – remains controversial and has been subject to several lawsuits already. Local elections this year could also impact future development.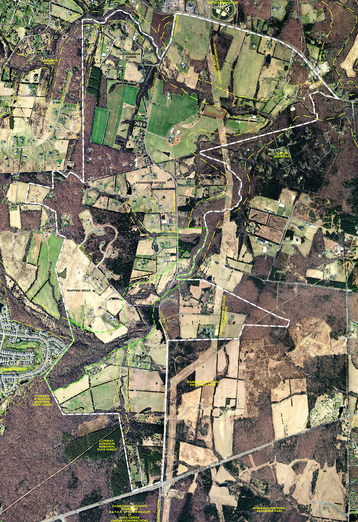 Senator Petersen looks to stop PW Digital Gateway and reassess data centers in the state
Virginia Senator Chap Petersen, representing large areas of Fairfax County, this month introduced two data center bills to the Virginia General Assembly.
The first bill would amend the states planning and zoning laws to place greater scrutiny on data center developments. The second would require an in-depth study of the impact and benefits of data centers in the state.
The first bill – VA SB1078 - Siting of data centers; impacts on resources, site assessment – would only allow the siting of data centers to be approved in areas where the development would have a "minimal impact on historic, agricultural, and cultural resources" and "not be within one mile" of a national park or state park or other historically significant sites.
The bill would also require that prior to approval, a site assessment would have to be performed to examine the effect of the data center on water usage, carbon emissions, and agricultural resources.
The cost impact report for this bill noted there would be 'no immediate impact' if passed, but a " substantial but indeterminant fiscal impact" if the provisions of the bill prevented a potential data center from locating in a locality. Some localities noted a lack of clarity on who would pay for the site assessments, which could increase costs if left to the towns/counties.
The second bill – SJ 240 Study; Department of Energy; impacts of data center development; report – directs the Department of Energy (DoE) to study the impacts of data center development on Virginia's environment, economy, energy resources, and ability to meet carbon-reduction goals.
This bill was offered as a joint resolution; Democratic Prince William Delegate Danica Roem introduced the resolution to the Virginia House of Delegates.
The study would evaluate:
- The impacts of data center development in Virginia, including impacts on electricity supply and demand, ratepayer impacts, and Virginia's ability to meet its climate goals.
- The progress that data centers have made in sourcing their energy needs from renewable energy sources.
- The effects of cryptocurrency mining.
- The impacts of concentrated data center development on air quality, wildlife, and water resources.
- The role of Virginia's tax incentives in producing benefits for certain localities at the expense of other taxpayers and impacted residents.
Once the evaluation is complete, the report would offer recommendations on whether Virginia should continue to provide incentives for data centers, and if such incentives should be tied to renewable energy or local economic development goals. The report would include a recommendation on whether cryptocurrency mining should be prohibited in Virginia.
The bill would require the DoE to complete its meetings by December 31, 2023.
Both bills were introduced last week and are currently in committee.
"Northern Virginia localities have seen an increase in conflicts over the siting of new data centers and associated transmission lines, including concerns about impacts to air and water quality, wildlife, noise, loss of farmland, and negative impacts on parks and Civil War battlefields," Petersen wrote in the resolution.
"That would deal with the Digital Gateway data centers coming down Pageland that would basically be lined up adjacent to Manassas Battlefield. I would prohibit that, flat out prohibit," Petersen told ABC7 News. "I said, 'Hold on, they're going to be siting data centers here?' While this is all going on, of course, the data centers, by and large, are built for bitcoin mining. It's effectively a site where they're running these bitcoin mines and generating whatever that is. Meanwhile, I look around and the crypto industry is not the most stable in the world, and yet we're making all these investments and tearing up farmland and all of these historic spaces. What can go wrong? I just really wanted to pump the brakes on this."
"If you're a property owner out there and you're thinking of buying land to put in a data center, you might want to pay attention to my bill because you could be buying yourself into a problem. Once state law changes, if you didn't have your zoning at that point, you don't have vested rights," Petersen said. "I'm not looking to burn somebody who has invested a couple of million dollars in property, but what I am looking to do is put the brakes on this whole process."
Supervisor Jeanine Lawson told 7News: "As a county supervisor, it's certainly peculiar to support Chapman's bill that restricts my own zoning authority, however, this proposed law may be our last hope. The majority of my colleagues have opened Pandora's Box with their record of votes for unchecked data center development while ignoring testimony from thousands of citizens, National Park superintendents, water experts, environmentalists, and more."
Delegate Roem introduces bills to stymie PW Digital Gateway
Reports of a PWC Digital Gateway surfaced last year, originally as an 800-acre development later tied to QTS. However, more landowners joined and the proposal expanded to include some 2,133 acres of the county's "rural crescent" near Manassas National Battlefield Park.
Compass and QTS are known to be involved in the Gateway project, looking to rezone and develop on around 800 acres each. A letter from NOVEC in a previous staff report suggests the project could total more than 1,000MW.
Delegate Roem is largely against data center development in Prince William outside of set industrial parks and has previously said: "Data centers & their supporting infrastructure don't belong in western PW outside Innovation Park, let alone by Manassas National Battlefield Park. I unequivocally oppose them and will legislate accordingly in '23."
Roem is also introducing two bills – VA HB1986 and VA HB 1974 – set to increase building requirements of data centers near the state's National Battlefield Parks.
The first, HB1986, is focused on stormwater management of data centers. The bill, introduced this month and referred to the Committee on Commerce and Energy, would direct the State Water Control Board to adopt regulations that require certain stormwater management techniques for land disturbances related to the construction, expansion, or operation of data center operations located within one mile of any land owned or operated by the National Park Service or designated as a Virginia State Park or state forest.
The second, HB1974, would require the construction of electrical transmission lines as a 'public interest' where a data center would be adjacent to a National Battlefield Park or state forest. The bill, which could potentially limit new transmission lines for data centers, only impacts Planning District 8, which includes Loudoun, Prince William, Fairfax, Arlington, Alexandria, Manassas, and Manassas Park.
"At what point do we look at the natural setting of western Prince William County and we say it's going to be sold to the highest bidder," Roem told WTOP news. "We are constantly putting money before the environment, protecting natural wildlife habitat and protecting our water in the Occoquan Reservoir area."
"I have two bills that are meant to deal with the data centers that are proposed for the Digital Gateway project, which would be built right next to the Manassas National Battlefield Park to the east, and Conway Robinson State Forest in Gainesville to the west," said Delegate Roem. "I am adamantly opposed to the data centers."
"Every time I see the woods being torn down from what other people call progress, it makes me wonder, why is this considered progress for us to destroy the environment?" she added. "Just because we want to make money."
Data centers to dominate local elections in Prince William County
While officials gave the OK to the county plan amendment, Compass and QTS will still need to apply for planning permission for each development. And although opposition groups are likely to oppose each application, the fact the majority of the county board voted in favor of the project hints that shouldn't be a stumbling block.
However, with elections looming, a number of Supervisor candidates are running on anti-data center platforms. All eight seats of the Prince William Board of County Supervisors and the Chair seat will be up for election this year.
Before that, however, Haymarket Councilman Bob Weir won the Republican nomination for Gainesville Supervisor in the upcoming special elections.
The Gainesville District is currently empty after Supervisor Pete Candland recently resigned. Candland stood down after the Commonwealth's Attorney recommended that he not participate in votes on the county's Comprehensive Plan or any data center projects in the county due to his property being part of the Gateway project.
The Special Election for Gainesville Supervisor is scheduled to be held on February 21, 2023. Weir will face off against Democrat Kerensa Sumer of Manassas.
Wier is opposed to the building of data centers along Pageland Lane for the Gateway project. Sumer is also opposed to the project. Both candidates agree there is currently enough industrial-zoned land in the area to accommodate demand.
Later in the year after the special election, Deshundra Jefferson – who also opposes the PW Digital Gateway project – is running for county Chair. She hopes to oust fellow Democratic incumbent Ann Wheeler, who has been a major proponent of the development but is subject to a recall effort and accusations of conflicted interests over her investments in data center firms.