British telecommunications provider Vodafone and Chinese network equipment vendor Huawei have held join trials of the latest 5G wireless technology in Barcelona.
During the demonstration, a mobile device used both 4G and 5G connectivity to establish first a voice call, then an HD video call. The partners hail it as the world's first call to be made using the Non Stand-Alone (NSA) 3GPP 5G new radio (NR) standard and sub-6GHz spectrum.
Non-Standalone NR is the latest 5G standard, developed by the industry association 3GPP and published in December 2017.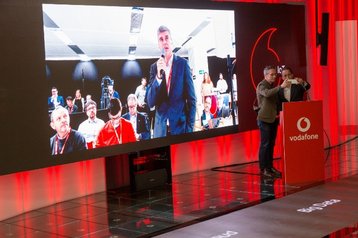 The first step

"This is a significant milestone for Vodafone towards the introduction of 5G," said Santiago Tenorio, head of Networks Strategy and Architecture at Vodafone Group.
"The credit for this must go to the engineers in Huawei and Vodafone who have worked tirelessly since December. This successful test will enable us to move forward with further trials of 5G across Europe during 2018."
One of the greatest obstacles on the way to commercial 5G services was the lack of official standards. NSA 5G NR is the result of 3GPP's efforts to speed up its standardization schedule: not a final version, but an intermediary specification that is meant to pave the way towards large-scale trials and commercial deployments as early as in 2019.
The standard has already been endorsed by industry giants like AT&T, BT, China Mobile, Deutsche Telekom, Telefonica, Verizon, NTT, Ericson and Nokia.
To demonstrate the technology, Huawei built an end-to-end test network that used 3.7GHz spectrum – the likely candidate for 5G deployments currently investigated by several government regulators, including FCC in the US.
The demo was shown in the run up to the Mobile World Congress – world's largest gathering of the mobile industry, which started on Monday.
"Huawei is fully committed to the further development of this end-to-end 5G network technology. This test result shows the maturity of 5G system based on the 3GPP standard. We are ready to continue our collaboration with Vodafone and enter commercial trial," said Yang Chaobin, president of Huawei's 5G product line.
Last year, Scandinavian network operator Telia became the first to hold public demonstrations of 5G connectivity in Europe – however, its trials focused on industrial applications, not connectivity for mobile devices.