London-based Volta Data Centres has been merged with Icelandic business Verne Global, with both companies operating under the latter brand.
The two data center firms are owned by Triple Point's Digital 9 Infrastructure (D9).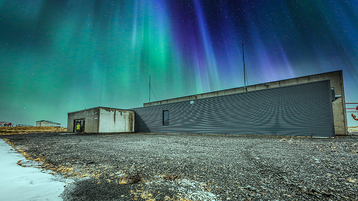 "With two complementary, best-in-class data centers, we can now offer enterprises more choice over where to locate their applications," said Dominic Ward, CEO, Verne Global.
"Our experience suggests that less than ten percent of workloads need to be in metropolitan areas, the rest can be located anywhere in the world. Yet historically, many organizations place all their applications in one spot, often in locations with severe space and power constraints, or inappropriate cost profiles. We help organizations take a fresh approach, splitting their applications between locations in order to optimize performance, reduce costs, and limit their impact on the environment."
Verne Global operates a 24MW data center campus on a former NATO site near Keflavik, Iceland, offering colocation and high-performance computing services. Late last year, D9 - which bought Verne for £231 million ($320m at the time) that September - said it would spend $50m adding another 10MW, in addition to a planned 8MW expansion.
Volta, which D9 acquired this April for £45m ($58.5m), owns and operates a 91,000 square foot (8,450 sq m), 6MW facility in central London, and provides colocation services.
Thor Johnsen, head of Triple Point's Digital 9 Infrastructure, added: "This is another great example of driving convergence value across our portfolio. Verne Global's data center assets represent some of the cleanest, lowest carbon footprint data centers, globally.
"Volta is one of central London's best-connected data centers with customers that continue to seek low latency access in key centralized locations. We are excited with the long-term opportunities across existing enterprise customers to optimize data center utilization across the broader platform, balancing the low latency metro access of Volta with the predictable power costs and sustainability benefits of Verne Global."