We discuss AMD's ARM-based efforts, waste heat, BT's European Union deal and cloud for Canucks
This week on White Space, we begin by looking at AMD's Opteron A1100 – the company's first piece of silicon based on 64-bit ARM architecture. It sounds great on paper, but after year-long delays, has this chipset missed the party?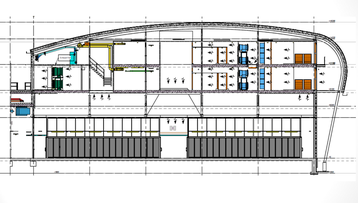 Meanwhile a Yandex data center in Finland has started using its server heat to keep local homes warm - great idea, albeit one that requires an existing district heating system to work. The data center is also shaped like the wing of an airplane to create the optimum level of inlet air pressure (see right).
BT has scored another two EU contracts – the British telecommunications giant will provide private and public cloud services to 52 European Union organizations.
However, privacy advocates are not happy: the company was previously accused of collaborating with UK government's spy agency GCHQ, which gave it the affectionate codename "REMEDY" in its internal documents.
And finally, Amazon has announced a data center in Canada, a day after our friends at TechWeekEurope published a feature titled 'Why Is Amazon Web Services Ignoring Canada?'