New data center firm Open Access Data Centres (OADC) has detailed its first two facilities in South Africa and Nigeria.
Last month wholesale fiber network firm WIOCC announced it had raised $200 million to launch a new pan-African data center network known as Open Access Data Centres (OADC). OADC has since said it plans to invest $500 million over the next five years.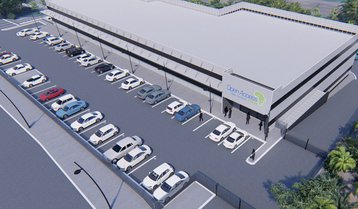 "We are really excited to be working in partnership with the vibrant wholesale community, including cloud and content providers, telcos, and Internet service providers (ISPs), helping them to expand their businesses into new territories and markets across Africa," said OADC's chief commercial officer, Kevin McLoughlin.
"Our clients increasingly require access to a network of high-quality, open-access, carrier-neutral data centers across multiple countries and cities. This is exactly what we are putting in place."
The company has also detailed the first two of its planned facilities, both of which have already broken ground.
The Nigerian facility will be located in Lekki, Lagos. Sitting on a four-hectare site, the $100 million, Tier III quality facility will have up to 20MW of capacity and 7,200 sqm (77,500 sq ft) of white space. The first phase is due to open in Q2 2022, and the Equiano sub-sea cable will land directly in this data center. The company said the site is scalable up to 40MW.
The South African facility will be located in Durban, and offer up to 5MW and 2,200 sqm (23,700 sqm) of white space. Due to open in 'early 2022,' the facility will also house the cable landing for the Amanzimtoti branch of the 2Africa submarine cable.
The company previously said a third facility in Mogadishu, Somalia, is due to come online 'before the end of 2022' but hasn't yet detailed specifications.
OADC said it plans facilities in up to 20 countries across Africa, including; Accra, Ghana; Abidjan, Cote d'Ivoire; Cape Town & Johannesburg, South Africa; Kinshasa, DRC; Lagos, Nigeria; and Mombasa & Nairobi, Kenya.