Open Access Data Centres (OADC), the new data center platform from WIOCC, has launched a facility in Lagos, Nigeria, and Johannesburg in South Africa.
The company said two more facilities are set to launch soon in Cape Town, while its existing data center in the city of Durban is set to be expanded.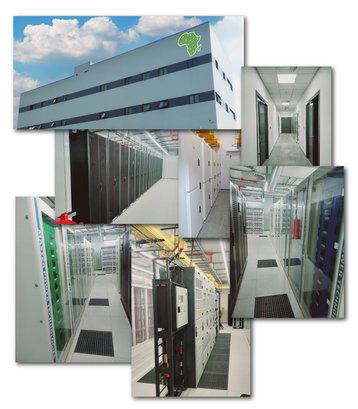 OADC launches in Nigeria
In Nigeria, the pan-African data center operator said this week that its facility in the Lekki area of Lagos is now operational.
Sitting on a four-hectare site, the facility is planned to support up to 20MW of site load across more than 7,200 sqm (77,500 sq ft) of white space; enough for 3,200 racks. Google's Equiano subsea cable also lands at the facility, which is reportedly scalable up to 40MW.
OADC CEO Ayotunde Coker said: "OADC Lagos is our flagship data center, offering tailored hosting/colocation solutions and high-availability interconnection to existing internet exchange points in Lagos. It also hosts the landing of Google's 144 Terabit per second Equiano cable, delivering an open-access gateway to hyperscale international connectivity, and as such playing a crucial role in meeting Nigeria's future international connectivity needs.
OADC also said that by mid-2023, the company will have rolled out more than 10 of its 0.5MW, 50-rack Edge data centers in Nigeria.
OADC expands in South Africa
The company has also deployed a new data center in the Isando area of Johannesburg in South Africa.
Configured with an initial 1,600 sqm (17,200 sq ft) of IT white space and up to 7MW of site load, OADC JNB1 expansion capacity up to 3,000 sqm (32,300 sq ft) and 15MW.
Two new data centers in Cape Town are set to become operational soon; with one coming online in Rondebosch in December, and one in Brackenfell in January 2023. Both facilities have been configured with an initial 1,000 sqm (10,750 sq ft) of IT white space, can be scaled up to 800+ racks, and have site loads of up to 5MW and 3MW respectively.
Phase 2 of OADC Durban will also be operational by mid-December 2022, adding a further 110 racks. The Meta-led 2Africa submarine cable is scheduled to land at the facility in January 2023.
In November 2021, WIOCC (West Indian Ocean Cable Company) announced it had raised $200 million to launch a new pan-African data center network known as Open Access Data Centres. OADC later said it planned to invest $500 million over the next five years.
The company launched its first 5MW, 2,200 sqm (23,700 sqm) core data center in Durban, South Africa, earlier this year.
As well as the Lagos site, a third facility in Mogadishu, Somalia, was due to come online 'before the end of 2022', but the company hasn't made mention of it in recent announcements.
OADC said it plans facilities in up to 20 countries across Africa, including; Accra, Ghana; Abidjan, Cote d'Ivoire; Cape Town & Johannesburg, South Africa; Kinshasa, DRC; Lagos, Nigeria; and Mombasa & Nairobi, Kenya.
Formed in 2008, African wholesale network firm WIOCC is part of the Eastern Africa Submarine Cable System (EASSy), Europe India Gateway (EIG), West Africa Cable System (WACS), Telecom Egypt North (TE North), South East Asia–Middle East–Western Europe 5 (SEA-ME-WE 5), and the Facebook-led 2Africa cable systems.