Open Access Data Centres (OADC) has launched its first data center in South Africa.
The WIOCC subsidiary this week announced the launch of OADC Edge, its first facility. Located in Durban, the facility offers up to 5MW and 2,200 sqm (23,700 sqm) of white space. The facility will also house the cable landing for the Amanzimtoti branch of the 2Africa submarine cable.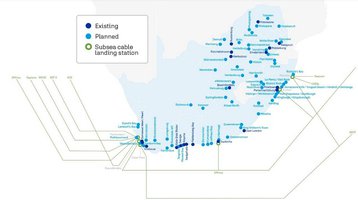 OADC Chief Technical Officer Bob Wright said: "In recent years, Africa has seen massive investment in hyperscale data centers focused on the continent's largest metropolitan areas. However, a presence in a single data center is no longer sufficient to address a country or region. 5G operators, ISPs and fiber operators are seeking cost-efficient ways to extend network reach into new markets, requiring network equipment to be securely housed in remote locations."
In November 2021, wholesale fiber network firm WIOCC announced it had raised $200 million to launch a new pan-African data center network known as Open Access Data Centres (OADC). OADC later said it planned to invest $500 million over the next five years.
"OADC is building Africa's Edge data center infrastructure to support clients seeking cost-effective network extension, and those who are changing their infrastructure deployment strategies to fulfill demand for content closer to the network Edge - for improved availability and premium performance - or to optimize networking and storage costs by pre-processing data locally," Wright added.
The company's second core data center is due to open in Nigeria later this year. Sitting on a four-hectare site in Lekki, Lagos, the $100 million, Tier III quality facility will have up to 20MW of capacity and 7,200 sqm (77,500 sq ft) of white space. The Equiano sub-sea cable will land directly in this data center. The company said the site is scalable up to 40MW.
The company previously said a third facility in Mogadishu, Somalia, is due to come online 'before the end of 2022' but hasn't yet detailed specifications.
OADC has previously said it plans facilities in up to 20 countries across Africa, including; Accra, Ghana; Abidjan, Cote d'Ivoire; Cape Town & Johannesburg, South Africa; Kinshasa, DRC; Lagos, Nigeria; and Mombasa & Nairobi, Kenya.
In its latest press release, the company added it is planning the rollout of "over 100, 0.5MW Edge data centers" by the end of 2022, with 17 of these small Edge locations already live in South Africa, offering colocation, rooftop access, and network interconnectivity between facilities.
It said it is also planning several 2-3MW, Tier-III quality regional facilities due to come online during Q3 2022.
Formed in 2008, African wholesale network firm WIOCC (West Indian Ocean Cable Company) is part of the Eastern Africa Submarine Cable System (EASSy), Europe India Gateway (EIG), West Africa Cable System (WACS), Telecom Egypt North (TE North), South East Asia–Middle East–Western Europe 5 (SEA-ME-WE 5), and the Facebook-led 2Africa cable systems.