As a data center publication, we have always covered climate change in relation to our industry - highlighting laudable efforts to lower emissions, and lambasting those that continue to work with fossil fuel giants, or that are simply greenwashing.
But in a week where we were once again reminded that this is a problem of today, and not just tomorrow, it is worth exploring some of the recent calamities that have occurred across the planet to get a wider picture - as well as understand how it impacts the sector.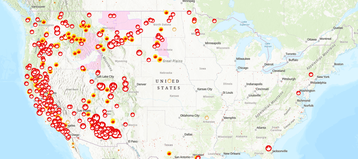 We began this week with record temperatures across western North America, following months of high temperatures, low rainfall, and a high pressure dome leading to blistering heatwaves and dangerous droughts.
California is set to shut a hydropower plant, crops are dying, fish are being evacuated to avoid extinction. Desperate grid operators have seen equipment melt, and have begged citizens to not use air conditioning
The world is no longer the same one that built the power infrastructure. Nor does the design of other infrastructure fit our modern reality.
"Significant excess human and animal mortality is likely," the Met Office's Paul Hutcheon said, although it will be some time before we know the scale of the deaths, if ever.
"In this region properties are generally designed to retain heat, not to shed heat, and air conditioning is much less prevalent than in other parts of North America. These temperatures will also likely stress infrastructure in this region, for example, power and water supplies."
He added: "Additionally the risk of wildfires will increase throughout this spell. The warmth may well lead to rapid melting of the mountain snowpack across the region, which could lead to some localized avalanche, flooding, and landslides in the mountains."
Indeed, wildfires have already begun, shifting the wildfire season yet further forward - and further north, into traditionally wet and cold places.
In Canada, where the country hit all-time record temperatures, the village of Lytton in British Columbia had to evacuate as a wildfire swept in, destroying homes, health clinics, and an ambulance station.
Horror begets horror - it appears that the fires burned so fiercely that their heat plumes caused severe thunderstorms. Those in turn led to lightning strikes, that have gone to spark new fires.
It's the cumulative effects that may prove the most devastating: The grid is at its most vulnerable during extreme weather events, and that is when it is needed by the most by the vulnerable to stay alive.
A leaked upcoming UN IPCC report on climate change has warned we are close to several tipping points that could cause runaway greenhouse effects. "Life on Earth can recover from a drastic climate shift by evolving into new species and creating new ecosystems… humans cannot," it said.
And, even as Canada burns, it may be one of the lucky nations. A paper published in the Proceedings of the National Academy of Sciences this week modeled where in North America will remain suitable for humans and crops in the coming decades.
By 2070, the lower half of the US could become simply too hot and dry for humans to live in, forcing mass migrations and a radical rethink of food supplies. Many may be pushed into Canada.
While as a society we tend to focus on Western climate events, this is of course a profoundly global issue: We're seeing wildfires in Russia too, and north Africa, the Arabian Peninsula, eastern Europe, Iran and the north-western Indian continent have all reached unusually high and dangerous temperatures.
This week, the Antarctic continent hit an all-time record temperature, while Greenland braces for the same.
"It is likely that some all-time temperature records will be set during this heatwave," the Met said.
The last few months have also seen extreme temperatures in China, along with hydropower blackouts. An unusual subtropical storm appeared in the South Atlantic off Argentina and Uruguay, another is expected next week. 68,000 hectares of rice in Bangladesh were destroyed by a two-day heatwave. In Pakistan, 20 children in one classroom collapsed unconscious with heatstroke. A tornado hit the Czech Republic, killing five. The Atlantic hurricane season has begun early, and is expected to lead to more devastating landfalls than average.
This is not normal. Or, at least, it shouldn't be.
The multitude of terrible events is - clearly and irrefutably - the result of man-made actions.
"These early summer hot weather conditions are taking place against the background of human-induced climate change with global temperatures already 1.2 C higher than pre-industrial levels," the World Meteorological Organization said.
"Heatwaves are becoming more frequent and intense as greenhouse gas concentrations lead to a rise in global temperatures. They are starting earlier and ending later and are taking an increasing toll on human health and health systems."
Climate scientist Nikos Christidis added: "An analysis from many computer models suggests that by the end of the century these extreme temperatures are more likely than not. Human influence is estimated to have increased the likelihood of a new record several thousand times."
Despite what some may have you believe, the science is long settled. The only debate that remains is - how bad will it get?
So, given that we know what is happening, and have many of the resources to aggressively mitigate the worst of climate change, what are we doing to save ourselves?
In America, a nation that repeatedly reminds the world of its power, vision, and scientific exceptionalism, progress has been slow.
The country upgraded from a President that denied the science of climate change to one promising a vast infrastructure bill that would help both lower emissions and build the cooling centers, sea walls, and other improvements that will help citizens deal with the pain of rising temperatures and sea levels.
That bill has been repeatedly watered down. This week, we got an insight into why.
ExxonMobil's smoking gun
Posing as a hiring firm, Greenpeace caught senior ExxonMobil lobbyist Keith McCoy on camera, detailing how he lobbied key senators to remove and diminish climate change measures from the bill.
"Joe Manchin," McCoy said. "I talk to his office every week. He is a kingmaker and he's not shy about sort of staking his claim early to changing the debate."
He named ten other senators, among them Democrats Mark Kelly and Kyrsten Sinema of Arizona, Chris Coons of Delaware, Jon Tester of Montana, and Maggie Hassan of New Hampshire, and Republicans Shelley Moore Capito of West Virginia, John Barrasso of Wyoming, Steve Daines of Montana, John Cornyn of Texas, and Marco Rubio of Florida.
Many were involved in developing the new, significantly smaller, infrastructure bill, apparently striking out measures by attacking the details.
"If instead of a $2 trillion bill, it's an $800 billion bill, if you lower that threshold and stick to highways and bridges, then a lot of the negative stuff starts to come out," McCoy said. "Why would you put in something on emissions reductions, on climate change, to oil refineries in a highway bill? People say, yeah, that doesn't make any sense. So you then you get to the germaneness, say that shouldn't be in this bill."
This is perhaps not much of a surprise to anyone that has followed the morass that is US politics, nor anyone who has studied Exxon. And yet it is breathtakingly sad to see it confirmed.
The lobbyist also detailed how Exxon was funding shadow groups to undermine the scientific consensus around climate change. "Did we aggressively fight against some of the science? Yes. Did we join some of these shadow groups to work against some of the early efforts? Yes, that's true. But there's nothing illegal about that."
He also revealed why Exxon has made the surprising gesture of publicly supporting a carbon tax: because it is confident it would never happen within the US. "Nobody is willing to impose a tax on all Americans," he said.
"And the cynical side of me says, yeah, we kind of know that. But it gives us a talking point that we can say, well, 'What is ExxonMobil for? We're for a carbon tax and why?' [But] a carbon tax isn't going to happen. The bottom line is it's going to take political courage and political will in order to get something done. And that doesn't exist in politics. It just doesn't."
Even if they were to happen, carbon taxes alone are not enough - especially given the speed at which the world needs to transition to avoid catastrophe.
Still, they have had an effect elsewhere, including on those in the data center sector.
Tucked away in a Climate Change Questionnaire, storage manufacturer Seagate revealed that the Singapore Carbon Tax was forcing it to reevaluate its uses of chemicals that have high global warming potentials.
The report states that the cost of using the chemicals will be around $700,000 a year under the tax, but now Seagate is spending at least $100,000 on researching and developing alternatives. The threat of a tax helped force innovation that could help the planet.
That same questionnaire, it should be noted, also details the risks of climate change to Seagate's supply chain - which would have a large downstream effect on the data center industry.
So how should the data center industry react in the wake of such a profoundly grim week?
On the hyperscale side, we need vision. Given the recent disclosures by Exxon, Microsoft's continued business relationship with the company is unconscionable. Beyond the lobbyist's comments, a Bloomberg investigation found this week that Exxon will increase its carbon dioxide emissions 17 percent by 2025 while doubling its earnings.
Microsoft doesn't just host Exxon on Azure. It is expressly developing AI tools to help with fossil fuel extraction, as well as lowering the cost of the process. Exxon's growth is intrinsically tied to Microsoft's help.
This is fundamentally unethical. For all the talk of Microsoft getting off of diesel, going carbon neutral, and removing its historical emissions, it is meaningless if the company is happy to be at the heart of the fossil fuel industry.
The same can be said for Google and Amazon, which actively compete for many of the same contracts.
The wider data center industry, too, can do its part.
There is a lot to be proud of: Despite rapid growth, vastly larger compute demands, and aggressive competition, data centers' energy usage has only grown a small amount.
This past week, research by Jonathan Koomey and Eric Masanet again highlighted that many attempts to chart the Internet's energy footprint have overestimated its power growth.
But that does not mean the industry can relax. There is no sign that we will be able to see the same leap in efficiency that virtualization, higher server utilization, and the shift to cloud brought. Plus with Moore's law slowing, we will need more servers, consuming higher power loads, to see keep growing our compute.
Data centers need to be mindful of energy usage. Not only must they be renewably powered, they have to look beyond simple power purchase agreements to bolder initiatives that ensure 24x7 green power from new-build plants.
They need to work with their neighbors to make use of waste heat and other byproducts. They need to recycle equipment, and look to more sustainable supply and construction methods.
And, more importantly than ever, they need to look at water use. Loose regulations have allowed US aquifers to be plundered, with little long term planning. Rivers are drying, reservoirs are dwindling, and crops are struggling.
Attracted by cheap land and large expanses, large data centers have an affinity for arid locations, with hyperscalers building in places like Texas and Arizona. If that has to happen, they must work with local communities to ensure the water use is both minimal, and sustainable.
These measures are not only ethical, but they also may prove self preservational.
As heatwaves grow in intensity and citizens are told not to use air conditioning, are unable to get water to wash and cool, and see food supplies disrupted, they may look to nearby data centers and wonder.
Expect people to ask "how come this data center gets more power and water than my entire community?" When that happens, you had better have an answer for them.