Chip designer Advanced Micro Devices (AMD) has successfully mounted a challenge to Intel's dominance in data center processors by focusing on energy-efficient server chips. AMD plans to further expand its presence in data centers by bringing more advanced processors and accelerators, as described during its recent Financial Analyst Day in June 2022. AMD's promise to IT buyers and data center managers is to deliver generational leaps in compute performance density with energy efficiency gains to match.
AMD is teaming for chiplet standards - read more
Chiplets - a winning strategy?
The key to AMD's recent success in supplying data centers is its highly modular approach to server processors. Instead of designing and manufacturing multiple large monolithic chips, the company has instead taken multichip technology several steps further. Using many smaller chips — or chiplets in AMD parlance — has enabled AMD to both lower its design effort (it has only a fraction of the engineering resources of Intel's design teams) and improve manufacturability, particularly on bleeding-edge chip fabrication technologies.
AMD's approach diverges significantly from market leader Intel, whose current leading server products (codenamed Ice Lake) integrate up to 40 cores and all other functionality (memory controllers, and on-chip and off-chip system interconnects) on a single piece of silicon. In comparison, AMD's mainstream server processors contain up to nine chips: eight of which are clusters of compute cores (eight cores each) and one connectivity hub to memory, other processors and peripherals. Its compute chiplets are smaller than the system chip in an Apple iPhone.
AMD's design choices have some engineering trade-offs, chiefly in packaging costs and performance for a number of scale-up applications (e.g., database processing) that rely on fast, highly uniform data sharing between processor cores. However, AMD, despite having a virtually non-existent market share in servers at the start of the 2010s, was able to afford these initial downsides by focusing on the faster-growing segment of scale-out infrastructures, chiefly cloud and high-performance computing applications.
AMD takes the lead
The bet has paid off. While Intel was struggling for years to deliver meaningful performance and energy gains in server processors, AMD — together with its chip foundry partner Taiwan Semiconductor Manufacturing Company (TSMC) — has leaped ahead in all departments, and by a wide margin in most workloads. Since 2017, AMD has tripled its server chips' performance density and added 60 percent of server level efficiency, as measured using the industry standard power efficiency benchmark SPECpower_ssj2008 (developed by the Standard Performance Evaluation Corporation). In contrast, Intel has added about 40 percent performance and stalled on efficiency in the same timeframe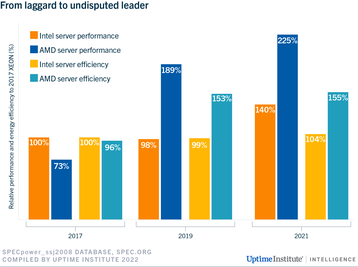 AMD's high core count server processors are now popular with cloud and other IT services providers, as well as high-performance computer users and enterprises with large-scale applications, such as desktop virtualization and transaction processing.
Toward the end of 2022, AMD plans to launch the first of its fourth generation of modular processor products (codenamed Genoa) that will integrate up to 12 compute chips with a maximum of 96 cores in a single package, up from the current maximum of 64. Soon after, in the first half of 2023, AMD plans to release a version (Bergamo) specifically targeting cloud infrastructure, with 128 efficiency-optimized cores per package to run scale-out containerized workloads. The new generation brings updates to the processor's architectural design and uses TSMC's latest manufacturing technology.
While AMD has not disclosed the expected increases in energy efficiency and performance density, these new parts are likely to bring another jump in both metrics due to an updated core design as well as new manufacturing technology. Uptime Institute Intelligence estimates a 20 percent to 40 percent efficiency improvement and a 40 percent to 80 percent increase in performance density for these new chips, for a wide range of scalable workloads.
Can Intel win back?
Intel will not be standing still. Deploying its vast engineering resources, the company is working against an accelerated technology roadmap to close the gap with AMD's chips by 2024 and aims to reestablish itself as the leader in server compute technology.
In the meantime, AMD will remain the flagbearer for IT energy efficiency and performance density for the next two to three years at least — and will be handsomely rewarded for it. The biggest winners of this renewed race between processor vendors, however, will be data center customers.