There's no escaping it – the use of technology is growing in everything we do and the trend shows no sign of slowing. For the silent partner that sits behind these technologies, this growth presents a real challenge in being able to store and manage the increased volumes of data. Yet, as well as the logistics, there is a larger sustainability issue where the demand for cleaner, more green energy to power the data center is critical.
Social media, video streaming services, IoT, to name a few, are all services powered through the data center. The accumulation of data exchanges, processing of servers and an "always-on" service have caused a real challenge for the industry to keep carbon emissions to a minimum. According to a white paper from Digital Realty, by 2020, data centers are projected to consume electricity equivalent to the output from 50 large coal-fired power plants – and that's just in the US. To tackle this, the industry needs to improve energy consumption and the resources used to power the data center, with renewable energy ranking high on the green agenda.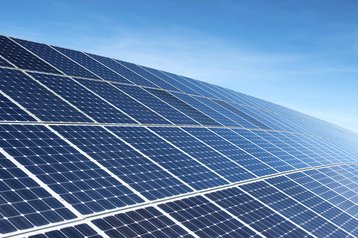 Hyperscale leads the way
To date, the large hyper-scale public cloud providers have used their size to make the biggest advances in the use of renewable energy for their data center estates. Google, Apple and Facebook have all committed to or achieved 100 per cent use of renewable sources of energy.
The growth in energy consumption in data centers to cope with the level of digital transformation occurring in society is happening so swiftly that the environmental watchdog Greenpeace conducts a regular green IT report, that examines big tech and data center companies on their use of renewable energy, advocacy and transparency on energy sources and planning.
Facebook, Apple and Google, which were the first advocates of renewable energy, received A grades in their commitment to renewable energy. Hyper-scaled providers are more easily able to move to renewable sources than mid-sized or smaller data storage facilities. The economies of scale mean that they can build their own dedicated renewable energy source or carry enough weight to agree long-term renewable energy contracts with large utility companies. For smaller data centers it can be harder to achieve sustainable energy use.
The challenge is that unlike in the case of some of the companies citing 100 percent commitments to renewable energy, smaller providers lack the budget or scalability to make a rapid change. Instead, a more realistic option is to see renewable energy as a secondary power supply. Fossil fuel energy may offer the primary source of energy, yet renewable energy has the ability to power smaller data center operations, thus limiting the amount of fossil fuels used and reducing costs at the same time.
Smaller providers lack the budget or scalability to make a rapid change. Instead, a more realistic option is to see renewable energy as a secondary power supply. 
Though alongside mid-to-small data centers, colocation facilities are also facing the same troubles in adopting renewable energies. In addition to analyzing the large technology providers, The Greenpeace report analyzed colocation facilities and found that only Switch achieved an A grade rating, with other facilities falling a few places down the pecking order, largely due to their focus on using more fossil fuel energies to power data center operations.
Asian technology companies from the likes of Baidu and Tencent also failed to rank highly, with the report criticizing their lack of energy transparency, especially in light of their market dominance. But does the Asian market have the clean energy infrastructure to make possible a shift to renewable energy sources?
A lack of energy providers as well as gaining proper credentials for renewable energy has proved particularly problematics in the region. Energy, particularly in China, is often highly centralized, while state-owned partnerships often lack transparency. To improve sustainability in the region, Asia requires the assistance of the large technology providers to advocate the importance of green energy. Yet, there is hope. Again, leading companies such as Apple have invested in renewable energy plans in China, while Google has recently pledged seed funding to support a renewable energy tracking system in Taiwan, further showing strong advocacy in Asia.
Governments' role
But not all responsibility should lie solely on large technology providers to open the door for sustainable growth. Global governments can also serve as a support arm for facilitating the adoption of renewable energy by increasing visibility of energy suppliers with data center operators and pushing for more partnerships. Government fiscal incentives, as well as strategic sustainability targets can encourage organizations to incorporate some form of renewable energy, and in the process push for longer-term contracts with energy suppliers.
As the big players in the market lead the way to renewable excellence, for other smaller technology and data center providers, laying the groundwork for progressive change will be the first step needed. Innovative adoption through using renewable energy as a secondary source, increasing transparency of energy, and government's initiatives towards bringing energy suppliers and technology providers closer together will help usher in a new era of green energy, no longer dominated by fossil fuel energies.
Roel Castelein is customer services director at The Green Grid