When the cloud began taking over the IT industry a decade ago, many organizations jumped in with both feet - but time has shown us it isn't a one-size-fits-all solution. As we enter the new year, the advantages of hybrid cloud architecture are becoming increasingly clear.
In particular, hybrid deployments involving colocation services are uniquely poised to support the rise in remote work and rapid shift to Edge computing.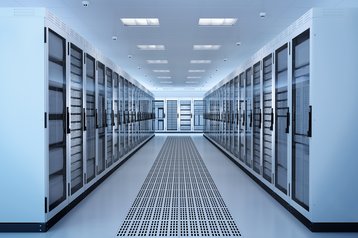 Embracing the remote workplace
Remote work was gaining in popularity before the pandemic and its momentum has only increased with social distancing. A June S&P Global survey found that 67 percent of IT decision-makers expect remote policies will remain in place long-term or permanently.
For businesses, reducing office space yields substantial cost savings and enables managers to hire the best talent regardless of location. Remote workers may also be more productive and exhibit higher retention rates. For employees, remote work represents autonomy and flexibility. One study found 78 percent of respondents would agree to pay cuts to work remotely at least some of the time.
This is all to say that the remote workplace is here to stay. And it's up to IT leadership to build in the infrastructure that remote organizations require.
First and foremost, remote work creates more network access points and therefore, a tremendous opportunity for hackers. Fortunately, VPNs are relatively easy to implement and manage. They no longer represent the cutting edge of network security, but VPNs should be a minimum requirement for supporting remote staff.
A shortcut to sustainable architecture
Colocation takes security beyond the standard VPN, layering a host of physical and digital policies and protocols to protect customers. For example, some facilities offer burstable bandwidth to thwart DDoS attacks. Many colocation providers have adopted zero-trust network access, a security concept that starts with the belief that even if something (or someone) is allowed within the network perimeter, they should not be granted unrestricted network access.
As more organizations embrace remote work and the number of IoT devices continues to grow, zero-trust frameworks will become the gold standard. Colocation reduces the internal burden of keeping up with security threats and trends. Some providers also offer instant access to an interconnected ecosystem of carriers, partners, and solutions.
For remote teams that cannot hash things out around a conference table, reliable access is arguably just as important. Colocation facilities are unmatched in terms of reliability. Many offer a 100% uptime guarantee. In comparison, Amazon's AWS platform promises 99.99 percent uptime. These figures may appear equivalent, but relying solely on AWS is in effect agreeing to hours of lost productivity and the frustration of staff and customers experiencing downtime. Likewise, remote hands keep networks operating 24x7x365, and infrastructure monitoring offers real-time visibility into bandwidth use, peak loads, and more.
The latest infrastructure monitoring tools provide much-needed transparency into colocation deployments. With this peace of mind, business leaders can feel confident focusing more resources on their companies' core competencies and less on data center operations. Infrastructure monitoring is a chief reason colocation was growing prior to the pandemic. Another is flexibility.
Rather than the fixed capabilities of an on-premises solution, colocation offers the ability to scale resources on-demand. Let's say several remote employees happen to be concentrated in one geographic area. A colocation investment in that area would reduce the load on the primary production environment and minimize lag for this group of "edge" users, without requiring heavy lifting from IT.
Increasing interest in the Edge
This brings us to the second major inflection point of 2021: Edge computing. Ultimately, this shift comes down to faster speeds and lower latency.
Today, many edge deployments are part of a "fog" architecture, which uses localized data centers as "fog nodes" to determine whether data should be sent to a central server or processed locally. This streamlines network performance, ensuring local devices process data as quickly as possible and regulating bandwidth to and from the network core. According to Cisco, one third of all traffic will bypass the core by 2022.
For all but a few businesses, it's never going to be realistic to build and maintain a network of data centers to take advantage of the benefits of edge computing. Colocation partners in the right markets can fill in the gap.
Those considering colocation edge deployments should know improved performance need not come at an increased cost. Edge computing does not require operators to invest in better cables or boost power; it's simply a more efficient arrangement for data processing.
That said, edge providers should be equipped with advanced routers that can handle a large volume of incoming traffic, or they risk becoming choke points that negate any gains in latency and speed. Multi-tenant data centers have a wide array of data packets flowing into their facilities, so they've likely already invested in routers designed to process multiple routing protocols efficiently.
As the use of IoT devices becomes more common, it's safe to assume Edge computing, like remote work, will continue to grow. At the same time, lack of control and privacy concerns will push many organizations toward hybrid cloud architectures. Colocation will enable IT leaders to balance the speed and flexibility of the cloud with the security and transparency of on-premises data centers.