The onset of 2023 brings a volatile, uncertain global economy. Energy prices are at an all-time high, the overall cost of living is skyrocketing, and sustainability is in crisis mode - all while digital transformation advances at great speed. Innovation and advances in data-hungry applications are growing, which means that organizations are more dependent on the ability to process, utilize and store huge amounts of data at speed and scale.
Additionally, businesses across Europe, the UK and the US face increasingly tough targets to reduce carbon footprint and provide a better pathway to sustainability in the coming years. As many organizations have begun to take a very deep look at their processes and infrastructures to accelerate sustainability across their operations, the IT department faces increasing challenges.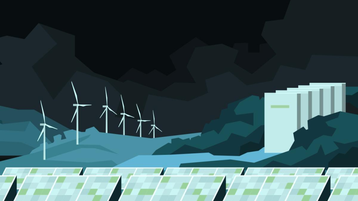 Much ado about the infrastructure
The infrastructure - the plumbing and the building blocks - of today's modern data center is critically important to the future of digital transformation. The speed of digitalization and continuous rate of change is putting new demands on each part of the digital ecosystem. Take, for example, the continued growth in global internet traffic, which surged at an unprecedented rate in 2020 due to the global pandemic and continues to rise with a 28 percent increase in traffic this year according to global market research firm, TeleGeography. As an indicator of the changes that are happening, this is clear and tells us that it's no longer a luxury to have a high performing, scalable, ready-to-meet-demand infrastructure – it's a needs must scenario.
Today's data-driven businesses are reinventing the way in which they work, and this is driving the need for a new type of infrastructure that can help them achieve next-generation computing power, house their ever-growing amount of data while being both sustainable and accessible. The IT industry needs to respond to this to create a global digital infrastructure that can provide high-performance computing (HPC), data processing, and storage services at scale and speed as well as play a central role in fuelling sustainable IT practices at its core as society continues to plunge towards an all-digital economy.
However, the reality is that most data centers still follow traditional models, where the capacity and availability of data processing and storage facilities are planned based on projected needs for a typical semi-digitalized organization with typical workloads. The relationship between IT workloads and the core infrastructure needs to be designed and built with more flexibility to enable data center facilities to scale to meet the increasing demands of its customers.
By leveraging innovations in artificial intelligence (AI) and machine learning (ML), data centers can better control the monitoring and management of critical infrastructure, data processing, workloads, and applications to gain better real-time visibility into operations. This not only creates efficiencies, performance gains, and lowers costs for today's organizations, but it also drives sustainable IT initiatives and forms the backbone of the future of the core infrastructure for global business going forward.
Decarbonizing IT through sustainable computing
Alongside the increasing need for a more robust, future-proof infrastructure, there is also considerable pressure on sustainability. The ability to find new alternatives to ensure continuity and reliability with high-performance applications in a cost-effective and energy-efficient way is becoming paramount.
Add to this, the increased demand for energy putting strain on most of the UK and Europe's power grids, and you have a perfect storm brewing as recognition of the climate crisis grows. This is where the core infrastructure is critical, and HPC data centers play a significant role in its future design.
Energy-intensive workloads not only use a lot of energy, but they also generate a lot of heat. In most countries, this means that expensive infrastructure is needed to cool down the equipment – in terms of cost, carbon footprint and power usage.
Although workloads are in general moving towards higher density, the majority of today's data centers are not built to support this level of density. This forces data center facilities to maintain a very large footprint to be able to accommodate the space (or empty racks) needed to scale. There is little benefit to this – the cooling system is not efficient for such workloads, energy ends up being wasted on cooling, and there is no heat reuse or circular heat recovery system in place.
This is why the geo placement of environments, based on a performance versus sustainability analysis on workload level, represent a real opportunity for organizations looking to 'green' their operations and focus on better access to affordable, reliable, and renewable electricity.
For example, the Nordics tend to be a preferred location for data center facilities. The region has the good fortune of benefitting from low ambient temperatures and a very tried and tested renewable energy infrastructure. With key government initiatives in place to positively support the environment and impact climate change, the Nordics can also drive sustainable IT and fuel a better ecosystem that can support the circular economy with heat reuse and recovery for local district heating.
The migration of high-performance and compute-intensive workloads to locations like the Nordics yields more capacity, flexibility, and scalability to foster digital innovation and drive sustainable business practices today.
We need to be asking ourselves:
Are we building to meet demand for the future?
What factors will be driving that demand – efficiency or expediency?
What new technologies are on the horizon that will disrupt the playing field?
Success will be measured based on the situation tomorrow, not today. The data center operators that can navigate between the opposing demands for more capacity, lower power usage and a wholly sustainable model, while still being a commercially viable option will most likely be considered a success.