Attracting and retaining qualified data center staff has been a major industry challenge for years — and continues to cause substantial problems for operators worldwide. Uptime Institute's 2022 Management and Operations Survey shows staffing and organization (54 percent) is the leading requirement cited by operators (see Figure 1).
In an environment where rapid growth in data center capacity has led to an increase in job openings that continues to outpace recruitment, it's hardly surprising that attracting and retaining staff is a key pain point for data center operators.
How difficult is it to attract and retain staff?
More than half (53 percent) of the respondents to Uptime's 2022 Global Data Center Survey report that their organizations are having difficulties finding qualified candidates — up from 47 percent in last year's survey and 38 percent in 2018.
Staff retention is also an issue: 42 percent of respondents saying their organization is having difficulty retaining staff due to them being hired away, compared with just 17 percent four years ago.
Moreover, a majority of those workers changing jobs are being hired by direct competitors (see Figure 2).
Women an underrepresented force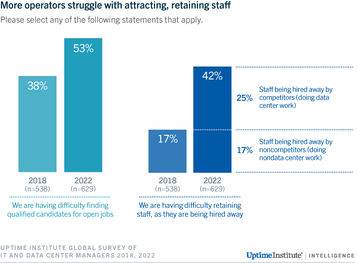 Historically, data center design and operations teams have employed few women, and this hasn't improved much since Uptime first started collecting information on gender demographics in our data center surveys in 2018.
More than three-quarters of operators (77 percent) report that they employ around 10 percent women or less, unchanged since 2018.
Strikingly, one-fifth of respondents (20 percent) still do not employ any women at all in their design and operations teams, although this number is down from 26 percent in 2018 (see Figure 3).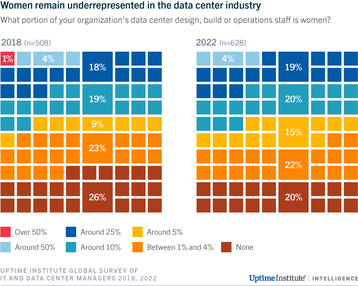 In short, a growing number of unfilled positions coupled with the low and stagnating proportion of women workers suggests the data center industry still has much work to do to leverage the untapped potential of the female workforce.
How the inability to hire is affecting management and operations
The shortage of qualified staff is seen as a root cause of a host of data center operational issues.
Data center staff execution (36 percent), insufficient staff (28 percent), and incorrect staff processes / procedures (21 percent) all rank among the top four most common root causes of data center issues in Uptime's 2022 Management and Operations Survey (see Figure 4).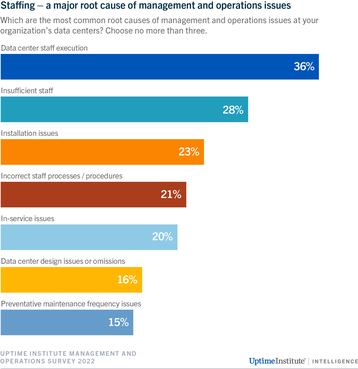 In addition, when we asked about the key challenges experienced in the last two years, 30 percent of respondents describe staffing issues — by far the highest response category.
As one respondent explained: they're seeing a "lack of available and qualified resources for both technical and coordination tasks." A separate respondent reports that their organization has "insufficient levels of operation and maintenance personnel," and another finds "staff turnover and inadequate training / experience" to be their company's biggest pain point.
Will AI come to the rescue? Not in the near term
Although artificial intelligence (AI)-based components are currently being incorporated into data center power and cooling systems, it's unclear when — or if — AI will begin to replace data center employees.
When asked about the potential impact of AI on data center staffing, only 19 percent of respondents believe it will reduce their operations staffing levels within the next five years — down from 29 percent in 2019. This decrease hints at lowered industry expectations that are more in line with the near-term capabilities of AI.
Just over half (52 percent) of respondents expect AI to reduce their staffing numbers in the longer term, but not in the next five years (see Figure 5).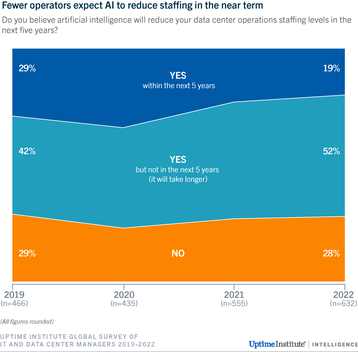 In a related finding from this year's annual survey, more than half of respondents (57 percent) say they would trust an adequately trained machine-learning model to make operational decisions, which is up from 49 percent last year.
Bottom line: staffing remains a major concern for operators
In its most recent forecast of data center workforce requirements, Uptime estimates that staffing requirement levels will grow globally from about 2.0 million full-time equivalents in 2019 to nearly 2.3 million by 2025 (see The people challenge: Global data center staffing forecast 2021-2025).
As the need for qualified staff increases, however, operators are having increasing difficulty filling critical data center roles and retaining staff in these positions. Additionally, an aging workforce in the more mature data center markets, such as North American and Western Europe, means a significant proportion of the existing workforce will retire concurrently — leaving data centers with a shortfall on both headcount and experience.
Hiring efforts are often offset by jobseekers' poor visibility of the sector, but some employers are looking at more effective ways to attract and retain talent, such as training and mentoring programs, and improving their diversity / inclusion efforts.
Staffing is a serious concern for the data center industry now and going forward. Uptime will continue to monitor the industry's ongoing difficulties in maintaining adequate staffing levels.
The full report Uptime Institute Global Data Center Survey 2022 is available here.