The Internet of Things (IoT) is a network of devices that gather and transmit data, and its ubiquitous adoption in devices like smartphones, cars, refrigerators and more is already impacting the data center industry.
The reason for this impact is that sensors and microchips can now be placed anywhere and the data can be subjected to advanced analytics to give businesses a competitive edge. This increasing amount of data, being produced by both consumers and service providers, will not only change the applications and devices, but also the way information is managed. Here, data center operators come into the picture.
Let's look at an example: suppose a company is distributing millions of sensors along its production chain in several factories. The data produced by the machines is sent to a central location. On one hand, the managers can access this large amount of data to help correct inefficiencies, and to create business value. But on the other hand, the company would probably very quickly reach its processing capacity, as it would be overloaded with data. It would not be technically and economically feasible to handle this huge amount of information in-house. Hence, the need for a robust data center.
Research firm Gartner estimates that the IoT will comprise 26 billion sensors by 2020, at which point IoT suppliers will generate incremental revenue exceeding $300bn, mostly from services. The rise in IoT technologies has a potential to transform the data center market, since it will create a large amount of data that will have to be analyzed and processed in real time. It will increase the number and variety of workloads in data centers, and data center service providers will face new capacity and security challenges. While data center owners recognize the obstacles in their way, they consider the emergence of the IoT as an opportunity rather than a threat.
Data center automation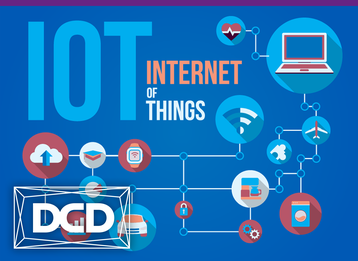 Data center automation enables unmanned execution of management tasks like scheduling, monitoring, configuration, patching, updating and reporting. IoT technologies require agility and flexibility for applications or services to be run quickly and securely. According to a recent survey by Juniper Networks, 80 percent of businesses experience network errors caused by human mistakes on a regular basis, with 5-6 errors per month in a non-automated network.
Data center operators have turned to automation to increase network reliability while controlling both capex and opex. Besides lowering costs, automation frees the staff to focus on more strategic work, making them more proactive than reactive and helping avoid human error.
According to Sayed Peerzade, chief information officer at Reliance Big Entertainment, by incorporating smart technologies into the data center, facility managers will be able to keep track of real-time status of components and environmental measurements to keep operations flowing smoothly. He said: "Sensors that measure temperature, humidity and electricity will be combined with network equipment monitoring to help data centers maintain a high level of uptime and reduce capital and operational expenditures. Data centers will have more platforms available to them, including IoT integrating data from many different sources to keep their computing facilities functioning at optimum capacity."
Store Valuable Data
A lot more data means a lot more storage will have to be provisioned in data centers. In addition to pure capacity, it is crucial to focus on being able to use data generated by the IoT in a cost-efficient manner. Thus, the companies need to adopt innovative ways for optimizing storage capacity, with better servers and latest compression technologies.
Joe Skorupa, VP and distinguished analyst at Gartner, previously stated that data center managers will need to deploy more forward-looking capacity management in these areas to be able to proactively meet the business priorities associated with IoT.
According to Gartner, backing up all raw data will probably be unaffordable. Also, it will be virtually impossible to store all the datasets generated by the IoT. Thus, data center providers will have to look for more efficient ways to sort data in real-time to identify valable information that must be stored and processed further.
High-speed, low-latency network
The inclusion of the IoT will increase the pressure on data center networks. Capabilities of an individual facility are dependent on the network that connects it with other data centers, as well as end-user devices. Sufficient levels of bandwidth must be made available to send data from the devices to the data center, as well as between distributed data centers, to accomplish meaningful analysis.
For example, in autonomous cars and logistics, huge amounts of sensor data are constantly being sent, received and analyzed by the systems in the vehicle and in the data center. Once driverless cars become practical, data center networks will need to transmit information in near real-time to manage traffic flow and prevent collisions.
Another example: imagine if a patient whose vital signs are being constantly monitored by remote hospital staff ends up in a life-threatening situation, if information cannot travel across the network in a reliable and timely manner. After all, the healthcare sector is being considered as one of the most important verticals for IoT adoption.
Robust security
With the growing popularity of the IoT, tremendous amount of highly sensitive and personal data is being transported every day, presenting a number of security risks that could be exploited to harm both businesses and consumers. This data might include financial transactions, personal records, and corporate data that is critical to business operations. This clearly indicates that security cannot be underestimated and data center providers need to maintain a robust defenseof their networks, servers, applications and end-points.
Taking this into account, it is vital for data center operators to have proper planning and expansion plans in place to meet new demands caused by rapid growth in IoT technologies. It is never too early to start thinking about the best approach to optimize their infrastructure.
Sayed Peerzade will be speaking at DCD>Enterprise Mumbai happening on November 9 2017 at The St. Regis Mumbai. Grab your FREE End User Pass at www.dcd-india.com 
More information about DCD
DCD has been the global leading B2B media and events producer since 2001 for the data center and IT industry, helping senior professionals in the world's most ICT dependent organizations make risk- based infrastructure and capacity decisions. Our portfolio of live events, online and print publishing, business intelligence and professional development brands are centered on the complexities of technology convergence. With events and footprint over 42 different countries, we have developed a unique global knowledge and networking platform, which is trusted by over 30,000 ICT, engineering and technology professionals. For more information about DCD events visit - http://dcd.events
Dan Scarbrough is the co-founder of DCD