For hyperscalers, cloud and platform-as-a-service (PaaS) providers looking to expand into new or existing business territories, speed-to-market, flexibility and scalability have become mission-critical factors to their success. Along with enterprises deploying high-density compute, these organizations often require large-scale infrastructure deployments delivered against stringent timelines.
Building for an unprecedented demand curve and with a focus on cost, sustainability and the ability to scale as needed without stranding capital, these business savvy and environmentally responsible customers are looking for data center providers who not only share their corporate ethos, but can deliver critical infrastructure fast — where and when it's needed.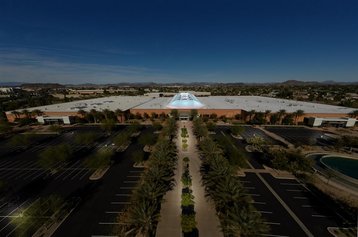 Availability versus overbuilding
Hyperscale data center projects have taught me the necessity of balancing the pressing need of availability against the potential downside of overbuilding infrastructure. Today, hyperscalers, cloud and platform providers are increasing investments in existing sites, adjacent land parcels and established data center markets, including Ashburn and Dallas. However, surging growth and scalability demands are outpacing what they can produce in their existing data centers. Moreover, they face multiple risk factors when planning new data center deployments.
Chief among these vulnerabilities are financial risk and ensuring on-time project delivery. Also at stake in platform delivery are staffing concerns and equipment quality issues that can lead to downstream operational liabilities. Because troubleshooting infrastructure in the field extends project timelines and inflates overall cost, power and cooling equipment must arrive on time and be operational according to specified design parameters. Additionally, new locations are becoming more difficult to predict even as access to green energy resources is becoming business critical.
That said, I am confident that some data center providers are applying the next generation of technology and innovation to achieve the necessary speed-to-market and scale with minimal exposure to risk. From within the trenches of this ever-changing technology landscape, here's my perspective on how the delicate balance of availability and risk mitigation can be achieved.
Velocity, flexibility and scalability
Mitigating risk begins with a data center provider offering an advanced, standardized supply chain methodology that streamlines platform delivery, and provides a simple and repeatable model that enables scalability within the same footprint for years to come. It needs a rolling pool of dedicated inventory, and factory-built mechanical and electrical plant in modular containers. This can accelerate scalability and make commissioning faster than ever before in the data center critical infrastructure business. This allows hyperscalers, cloud and platform providers to future-proof their IT environments against unpredictable usage and growth.
Modular data center design and delivery is faster. Electrical inventory arrives in the form of a UL-certified standardized kit that includes medium-voltage power distribution, uninterruptible power supply (UPS), and enclosed generators, all the way down to the power distribution unit (PDU). Moreover, when trusted vendors hold an approximately 50 MW, auto-replenished pool of available inventory — ready for immediate deployment and comprised of prefabricated, factory-built and tested power and cooling equipment — this allows data centers to be delivered as a utility for swift expansion in new or existing markets. Compared to on-site assembly, prefabricated components accelerate project timelines while reducing cost. Simply put, this allows power and cooling to be dropped and connected on demand.
Next, advanced cooling technology allows customers to deploy infrastructure where and when they need it — and reconfigure quickly and seamlessly, and usually within the same footprint — as their requirements change. With such an adaptable and intelligent cooling system, workload densities can scale in place without having to reconfigure existing infrastructure, disperse equipment, or require large-scale investments to augment floors for increasing heat loads.
Customers can initiate at one density profile and scale up to 50kW per rack without disruption, all while maintaining industry-leading power usage effectiveness (PUE). Using up to 80 percent less energy and 85 percent less water, and combined with an air-cooled adiabatic assisted cooling system, this delivers efficiency at any load, in any climate, to support companies' sustainability goals.
Global Market Insights predicts the hyperscale data center market will exceed $65 billion by the end of 2025, up from $20 billion in 2019, driven by increasing demand for cloud computing and Big Data across multiple industries, and by the rise in the number of smartphone users. Meanwhile, growing data traffic from the adoption of IoT technologies will also further accelerate the expansion of the hyperscale data center industry.